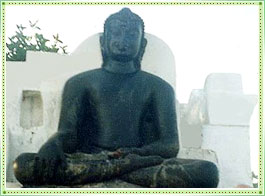 Ghosrawan was once the epicenter of religious activities of Buddhism. Ghosrawan had a Buddhist monastery and the seat of higher learning. According to some historians Chinese traveler and Buddhist scholar Hiuen Tsang had visited Ghosrawan monastery.
The village of Ghosrawan has a huge statue of Lord Buddha which is some ten feet tall. The statue of Lord Buddha stands in the outskirt of village and is made of shiny black stone and is well carved. Other than the huge statue of Lord Buddha, there is another temple in the village which houses numerous statues of Lord Buddha and other Bodhisattvas. Many of them are worshiped by Hindus and are besmeared in vermilion and have lost their original charm.
Recently, there has been effort to revitalize Buddhist statues all across the region so that all such statues which are originally of Lord Buddha or of Bodhisattvas should be recovered.
There is a small museum near Ghosrawan, which is putting an effort to save the Buddhist heritage in the region. The museum, which is open between 10 AM – 5 PM except on Monday, is an excellent example preservation of heritage.
Near to Ghosrawan is Pawapuri, located at a distance of five kilometers. Pawapuri was the birth place of Lord Mahavira and a popular pilgrim destination for Jaias. Pawapuri houses an exquisite marble temple in the middle of a lotus pond. Another attraction at the place is a Jalmandir situated in a rectangular island.