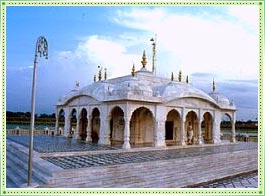 Pawapuri is located at a distance of 38 kilometers away from Rajgir. While Rajgir and Nalanda are major Buddhist pilgrim destinations, Pawapuri is a holy place for Jains. Nalanda is just 90 kilometers away from Pawapuri and easily accessible. Pawapuri is also a part of an ambitious tourism promotion project by tourism ministry of India.
Pawapuri is sacred for Jain followers for the reason that Lord Mahavira, the twenty fourth tirthankar, attained salvation here. He was cremated at Pawapuri, popularly known as Apapuri which in Jain literature is indicative of 'sinless town.' Mahavira had become a living legend and quite popular among masses and when he was cremated at Apapuri, people started taking the ash left in his pyre. According to legends, this resulted into a deep pond at that place.
The same pond houses a marble made Jain temple called 'Jalmandir.' Jalmandir is a popular tourist destination. Built in circular shape, the Jalmandir rises in slow steps and there are various terraces in it. The temple enshrines the footsteps of Lord Mahavira, the last tirthankara. Pawapuri is also the place where Lord Mahavira delivered his last sermon to his disciples before going to Nirvana.
Historically, Pawapuri was a part of the Magadh Empire and was a center of learning and religious activities. While Bimbisar patronized Buddhism, Ajatshatru the famous king of Magadh patronized Jainism. Ajatshatru was a staunch follower of Mahavir Jain and he helped latter's message spreading among masses of India. Other than Jalmandir, there are some other temples dedicated to Lord Mahavira and one of them is Samosaran temple, a major tourist attraction among Jains.