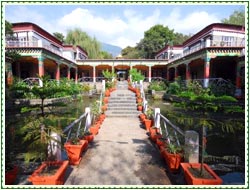 With dramatic mountain ranges of Himachal Pradesh surrounding this place and spirituality in the air, Dharamsala is one place that a person must travel to at least once in his lifetime. No where else in this world would get such a dramatic combination of spirituality and natural beauty. Tourists, locals, those in quest for answers, atheists and virtually every kind of person is found over here, mesmerized by the sheer simplicity of Dharamshala. The magnetism this place exudes is beyond comprehension and one can only surrender to this power.
Tourism in Dharamsala has caught up rapidly and this destination is counted as one of the most famous in India. There are a number of lodging facilities here along with tourist attractions. Dharamsala is divided into two parts: upper and lower Dharamsala. The upper part is known as Mcleodganj while the lower part is the main Dharamsala. Tall and dense pine trees with small streams flowing down from the nearby snowline make this place a favorite among people. Life goes on smoothly in this place even though it does not boast of the modern facilities of metro cities.
Dharamshala Tourist Attractions
Nestled among the mighty ranges of lower Himalayas in Himachal Pradesh, Dharamsala is the abode of faith, peace and knowledge. Considered to be one of the most sought after spiritual destinations, this place is the perfect location to go on sightseeing tours.
Kangra Art Museum
Situated in Kotwali Bazaar of Dharamsala, Kangra Art Gallery was inaugurated in 1990. It houses an impressive collection of arts, crafts, artifacts, costumes and other treasures, which can be traced to as far back as 5th century.
Kangra Fort
Kangra Fort was once the stronghold and seat of power of Katoch rulers, who ruled the land for over 2000 years. Today, it stands in ruins because of the devastating earthquake that hit the area in 1905.
Library of Tibetan Works and Archives
Library of Tibetan Works and Archives (LTWA) is situated at McLeodganj town of Dharamsala. It was founded by the 14th Dalai Lama and serves as an institution to preserve and promote Tibetan culture.
Namgyal Monastery
Sonam Gyatso, the third Dalai Lama, founded Namgyal Monastery in the year 1575. During that time, it was situated at the Potala Palace in Tibet. Its purpose was to assist the Dalai Lama in his spiritual duties and public religious activities.
Norbulingka Institute
Situated at a distance of 4 km from Dharamsala, Norbulinka Institute has a mission to preserve and promote. It is a picture of old rural Tibet with all its shady paths, wooden bridges, small streams and tiny water falls, along with wooden carvings, Tibetan Thangka paintings, Tibetan handicrafts and arts.
Nurpur Fort
Located 66 km from Dharamsala and 24 km from Pathankot, Nurpur Fort was constructed by Raja Basu more than one thousand years ago. Initially, it was known as Dhameri.
How to Reach Dharamshala
Known as 'Little Lhasa' of India, for it the residence of the Dalai Lama, Dharamsala attracts thousands of tourists every year. The place is located in sub-Himalayan range of mountains and boasts of a very pleasing atmosphere, lush green meadows and verdant valleys.
McLeodganj
Located in the upper part of Dharamsala, the British established town of McLeodganj is amongst one of the most popular tourist hill stations in India these days.
Places to See near Dharamshala
Dharamsala was established in the year 1849, by British rulers, for the purpose of having a place where they escape from the scorching heat of Indian plains.
Dharamshala Weather
Dharamsala, located in the state of Himachal Pradesh, is an ideal hill station for tourists. The place is full of pine and Deodar trees and stands aurrounded amidst picturesque locales.
Things to Do in Dharamsala
Dharmasala is the perfect destination for those who are looking either for a very quiet holiday or (in the contrast) for a trip full of adventure activites. On one hand, the picturesque town is away from the hullabaloo and stress of city life and offers some moments of peace and respite, amidst the lap of nature.