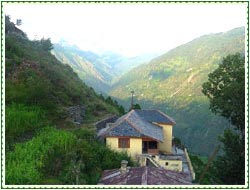 Located between the mighty Zanskar and Dhauladhar ranges, the Chamba valley is one of the most popular destinations in India. The establishment of this place dates back to the 10th century. It is believed that Chamba was named after the daughter of Raja Sahil Verman named Champavati, who is considered to be a deity here. Travel to Chamba to explore its ancient temples and historical monuments that speak volumes about its intriguing historical legacy. The months of March to June are ideal for visiting this place in Himachal Pradesh.
Nature lovers and trekkers love its passes and slopes and treks that suit all kind of hikers including the novices, experienced hikers and amateurs. There are number of lakes and picnic spots for you to enjoy here and number of excursions that will keep you busy all day long. One can see the mesmerizing snowline from anywhere in Chamba that continues to inspire many poets and painters. Tourism in Chamba is catching up rapidly due to its unspoilt beauty and tranquility. Visit this lovely place in Himachal Pradesh and experience one of the best vacations ever.
Chamba Tourist Attractions
A small town located on top of a plateau in Himachal Pradesh, Chamba offers tourists the perfect destination for a dream vacation. This beautiful locale is situated in the valley of river Ravi.
Bhuri Singh Museum
Bhuri Singh Museum was inaugurated on 14th September 1908, during the reign of Raja Bhuri Singh. Infact, the museum has been named after the king only. Situated close to Chaugan town of Chamba, it was initially started with the paintings donated by Raja Bhuri Singh.
Rang Mahal
Built by Raja Umed Singh in the mid-18th century, Rang Mahal is also known as the 'Painted Palace'. It is situated at Chamba and was meant to serve as the residence of the royal women. The influence of Mughal, Colonial and Saracenic architectural style can be seen in its construction.
Champavati Temple
Champavati Temple, located in the heart of the city of Chamba, is a pilgrim destination for many Hindus. It is named after Champavati, the daughter of King Sahil Varman, the founder of the temple.
Chamunda Devi Temple
Chamunda Devi Temple, located along the Pathankot-Jogindernagar railway line, is an important pilgrim destination for Hindus. The temple is situated on the bank of river Baner and is around fifteen kilometer from the town of Dharamsala.
Places to See near Chamba
Chamba, situated in the middle Himalayan range of mountains, has many major tourist attractions to boast of. Sited in midst of natural and pristine beautiful valleys and effervescent rivers, the place is worth visiting for any traveler.
How to Reach Chamba
Chamba, a hill station, attracts a big number of tourists every year with its natural beauty. The place is ideally located in tranquil and quiet valleys and offers solace and peace of mind to travelers.
Chamba Weather
Chamba, a small but attractive tourist destination of Himachal Pradesh, is known for its exquisite natural beauty. The place, located amidst picturesque and verdant valleys, is visited by tourist round the year.