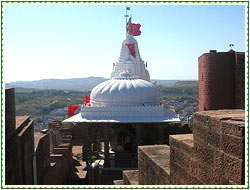 Chamunda Devi Temple, located along the Pathankot-Jogindernagar railway line, is an important pilgrim destination for Hindus. The temple is situated on the bank of river Baner and is around fifteen kilometer from the town of Dharamsala. The forests of Pathiar and Lahla, which are near to the temple, make it an ideal tourist spot. Tourists can have fairly well views of the picturesque township, down the hill, from the top at the temple. Chamunda Devi Mandir is dedicated to Goddess Kali, the Goddess of War.
The position and impression of the statue is one of wrathful goddess. According to the legend, two demons Chanda and Munda tried to harass Goddess Ambika. Once, when goddess was sitting atop the hill, these demons tried to bother her. On this, Goddess Ambika got furious and from her knitted brows came the deadly Kali Goddess, wearing tiger skinned sari and a garland of skulls. Goddess Kali then killed both the demons. Upon this, Goddess Ambika declared that Kali would now be worshiped as Chamunda Devi.
The temple is nearly seven hundred year old and spreads into a big complex. The compound houses a tank which Hindu pilgrims use for bathing. An important fact about the temple is a cave-like scoop on the backside of the temple, where a stone phallus, the symbol of Lord Shiva, is kept. There are statues of other other Hindu god and goddesses as well. The architecture of the temple has been kept simple and sober, but the spiritual and religious influence is simply awesome. The main image of the deity is visible from the entrance to the sanctum.
The temple is also known as Chamunda Nandikeshwar Dham among Hindus, for it is believed to be the abode of 'Shiva and Shakti'. Lord Bhairav and Lord Hanuman adore the main shrine. Both of them stand each side of the statue and are considered as the guards of the Goddess. The main image of the Goddess is visibly draped in rich clothes. Daily worship of Goddess is included in curriculum of the temple besides sermons and praising songs. Reciting the hymn of 'Shat Chandi', with devoted heart, at this temple is considered auspicious.
The interiors of the sanctorum of the deity have been beautified with carved silver sheets. The temple complex also has a handicrafts centre, containing items of the woodcarvings, wooden toys, black pottery, honey, Kangra tea and world famous Kangra Paintings. During the Navratras, people from all over India come in hordes into the temple. Pilgrims from far and near come to visit this temple of great legacy and religious importance. Chamunda Devi blesses all her true devotees.