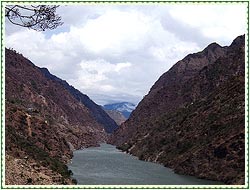 Chamba, situated in the middle Himalayan range of mountains, has many major tourist attractions to boast of. Sited in midst of natural and pristine beautiful valleys and effervescent rivers, the place is worth visiting for any traveler. Away from the hustle-bustle of metros offers tranquility and calmness, Chamba has successfully kept its innocence and tradition. It is full of many temples, including those of Lord Ganesh, Shiva, Durga, Kali and other God and Goddesses. Apart from its own attractions, it has numerous excursions near its borders. Explore more on the places to see near Chamba
Kullu Valley
Kullu Valley, once known as the end of the habitual world, is now the place for many adventurous sports. This silver valley is located in greater Himalayas, amidst deep woodland of oaks. Beas River that flows through it adds to its splendor and makes it even more beautiful.
Manali
Situated at the Northern end of the Kullu valley, with its spectacular views of the snowcapped peaks and wooded slopes, Manali is a major tourist attraction in Himachal Pradesh. The place is ideal for honeymooners for its green meadows and natural beauty.
Dharamsala
His holiness the Dalai Lama lives in Dharmasala, located very near Chamba. The place also serves as the residence of many Tibetan refugees who attract tourists for their typical culture and tradition. Be it art or handicrafts, these people give versatility to diverse Indian culture. Apart from that, the numerous monasteries in Dharamsala add to its attraction.
Shimla
The summer capital of British rulers gives fantastic experience, with a trip on the toy train. The place is considered as the best hill station in India. Historically, the place was the part of Nepalese kingdom and its name was Shymala, which derived its name from a local Goddess. In the year 1819, British rediscovered it and subsequently made it their summer capital, leading to its development.
Sarchu
Located at the altitude of 4253, the picturesque town of Sarchu is the last point on the Himachal Pradesh - Ladakh border. The place offers splendid views of steep valleys and snow capped mountains. The unspoiled natural beauty of Sarchu offers the perfect ambience to spend some time away from the hustle and bustle of city life.