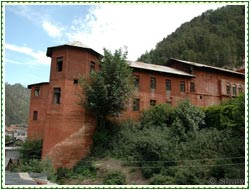 Located in Suraj Mohalla, Rang Mahal attracts many tourists every year, mainly for its history and beauty. Historically speaking, King Ummed Singh laid down the foundation of the palace, during mid-eighteenth century. Later, kings of the same dynasty, including Raj Sri Singh, repaired this brick palace. The aim behind its erection of Rang Mahal, besides serving as king's accommodation, was to have a warehouse for royal grain and treasure. The palace served as the centre of royal activities in its inception.
Now, it is a government property and Department of Handicrafts uses it as the work-shop for shoe, slippers, etc. All the paraphernalia that was left in the palace has now been taken out and kept in different museums across India. The wall paintings, belonging to the Kangra School, that adorn Rang Mahal are splendid and represent one of the most extensive hill collections. The paintings follow stories of Lord Krishna. The major attraction of the palace is the fact that its doors are carved and painted in style. Rang Mahal also houses a Himachal emporium, apart from a college that operates inside its premises.
The emporium facilitates embroidery work by local women. These women have been carrying the thousand-year-old craft of embroidery by making embroidery on handkerchief. These handkerchiefs are made of silk and after embroidery work, become extremely beautiful. The place also attracts for embroidery work on silky clothes. Tourists have to take permission for any visit to Rang Mahal. The visiting time for the palace is from 10 am to 1.00 pm and 2.00 pm to 5.00 pm, from Mondays to Saturdays.