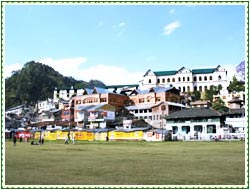 A small town located on top of a plateau in Himachal Pradesh, Chamba offers tourists the perfect destination for a dream vacation. This beautiful locale is situated in the valley of river Ravi. A sightseeing tour to Chamba will be no less than a rejuvenating vacation as you get to treat your eyes to some of the most scenic natural surroundings. Explore the various tourist attractions of the valley and get bedazzled by the unique amalgamation of the past with the present. Check out the places to see on a sightseeing tour of Chamba.
Chamunda Devi Temple
The ancient temple of Chamunda Mata is dedicated to Goddess Chamunda, one of the incarnations of Goddess Durga. Just behind the main temple, is a small shrine dedicated to Lord Shiva. Chamunda Devi Temple situated on a hilltop and offers panoramic views of the entire Chamba, the mighty River Ravi as well as the surrounding villages and countryside.
Katasan Devi Temple
Katasan Devi Temple is situated near Baira Siul Project, approximately 30 km from Chamba valley. One of the main reasons for the popularity of the temple comprises of its calm, peaceful and serene locales that offer beautiful views of the valley.
Champavati Temple
Champavati Temple, as the name suggests, is dedicated to Goddess Champavati, the patron deity of Chamba. It is said that the temple was constructed by the father of the Goddess, King Sahil Verman. Built as per the Shikhara style of architecture, it boasts of magnificent stone carvings and an amazing wheel roof.
Vajreshwari Temple
One of the most revered shrines in Chamba, Vajreshwari Temple is dedicated to Devi Vajreshwari, the Goddess of Lightening. It has also been built as per the Shikhara style of architecture. Since there are no historical records about the foundation of the temple, it is very difficult to ascertain the year of its construction. However, it is believed that Vajreshwari Temple is more than 1000 years old.
Chowgan
A sprawling grassland and boulevard in the heart of the city, Chowgan is the hub of local trade. It is also the starting point of the procession that forms a part of the Minjar Fair. Even the weeklong celebrations of the annual fair take place here only. During that time, the boulevard witnesses a host of cultural events, shows, programs and sport activities.
Bhuri Singh Museum
Bhuri Singh Museum was inaugurated on 14th September 1908, during the reign of Raja Bhuri Singh. Infact, the museum has been named after the king only. Situated close to Chaugan town of Chamba, it was initially started with the paintings donated by Raja Bhuri Singh.
Rang Mahal
Built by Raja Umed Singh in the mid-18th century, Rang Mahal is also known as the 'Painted Palace'. It is situated at Chamba and was meant to serve as the residence of the royal women.