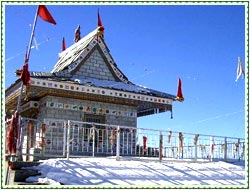 Probably skiing is the best attraction, Narkanda is known for. And most of the people visit this place for this sole reason. This sport happens on the snowy slopes of Dhumri during the winter months from January till early March. But Narkanda is not just about skiing; there is something more to it. Yes, you have guessed it right. Natural beauty, undulating mountains, apple orchards, and dense forests, are some of the interesting sightseeing spots in Narkanda. To check out places of tourist interest in Narkanda, read further.
Kotgarh and Thanedhar
At the average height of 1830m, Kotagarh and Thanedar are two places known for apple orchards. These places are about 17 kms away from Narkanda. Thanedar boasts of having the famous Stokes Farm.
Tannu Jubbar Lake
It's a beautiful small lake with placid waters on way to Kotgarh. On the banks, you can also see an ancient Nag deity temple.
Kacheri
At an altitude of 1810 mtr, Kacheri is 7 kms from Narkanda on NH - 22. It is famous for an ancient Mahamaya Temple.
Hatu Peak
Hatu Peak offers a great 8km trek for people who are not looking for rigorous treks. In case if you find it difficult, you can also drive up to the peak. There is a little temple atop the peak dedicated to Hatu Mata. A small tea stall is also there at your service to dole out some local tid-bids and steaming tea in summers. Sit and enjoy the picturesque view of snow-clad mountains, apple orchards, green fields, and swirling mists.
Jallori Pass
Jallori Pass, at an elevation of 3,550 m, is a beautiful place just 90 km from Narkanda. To reach here, you have to pass through the Sutlej Valley, crossing over to Luhri, Ani, and Khanag. A 30-minute walk from the Pass can bring you to Sarolsar Lake sited among deep forests.
Rampur Bushehr
Rampur Bushehr is the erstwhile capital of the Bushehr kingdom, located on the Sutlej River. The town has four temples (Raghunath, Ayodhya, Narsingh and Dumgir Budh). It also boasts of an old wooden Padam Palace. Rampur is just 52 kms from Narkanda and makes a good stopover on the long journey to Spiti.