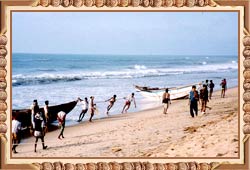 Location:
Eastern coast of Orissa
Area:
1,100 sq km
Lying on the eastern coast of Orissa, Chilka Lake is one of the most sought after tourist attractions near the holy city of Puri. The source of the lake is the Mahanadi River, which drains into it. Chilika Lake is one of the largest lakes in not only India, but also Asia and stretches over an area of 1,100 sq km. It is a very popular picnic spot and provides ample opportunities for boating, fishing and bird watching. If you just want to relax and soak the sunrays, this is the perfect place for you.
The lake is located far away from the hustle bustle of the city and serves as the perfect getaway from the daily tensions. During winters, Chilka Lake serves as a bird sanctuary, providing home to a wide variety of migratory birds that come here from different parts of the world. For people who want to keep away from the maddening rush of city, there can be no better option than to enjoy sitting by the side of the lake or going on a long walk along its extensive stretch or indulging in bird watching
The dazzling view of the Chilika Lake, the melodious humming of birds and the rejuvenating calmness of the environs are bound to leave an ever-lasting impression in your mind. The scenic beauty of the lake has been a source of inspiration for numerous pets in the past. Going on a cruise is another one of the adventures you can undertake while visiting the Chilka Lake. So, pack your bags right now and get ready to lose yourself in this beautiful world.