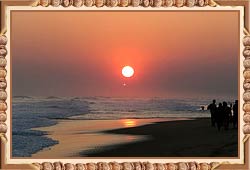 Summer Temperature
Maximum:
36 Deg C
Minimum:
27 Deg C
Winter Temperature
Maximum:
25 Deg C
Minimum:
15 Deg C
Best Time to Visit:
October to March
If you are planning to go to Puri on a vacation, then it becomes of prime importance on your part to gather information about the weather experienced by the city, well in advance. This will help you to avoid reaching there in extreme weather conditions, when you cannot enjoy anything completely. Since the city is situated close to the sea, its climate shows heavy influence of the same. One can feel the quiet sea winds wafting during the evening hours.
In the summer season, Puri rarely sees the mercury crossing 36 deg C mark. The minimum temperature remains somewhere around 27 deg C. The winter season sees the maximum temperature reaching 25 deg C, while the minimum temperature is round 15 deg C, hardly going below it. As far as the weather in Puri is concerned, it can be said that, the best time to visit the city is during the period between October and March.
However, many people plan their holidays during the months of June and July, so as to witness Jagannath Rath Yatra. The monsoon season lasts from the month of June-July, till September. During this time, the weather is very humid and unbearable and people are advised not to visit the beach or get too close to the sea, as it has all the chances of becoming turbulent. Apart from religious significance and picturesque beaches, there is another factor that draws people to Puri from far and wide - its pleasant climate.