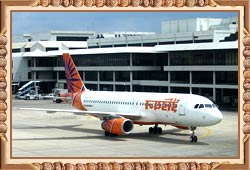 Puri, being the dwelling place of Lord Jagannath, is one of the most visited pilgrim destinations of India. Devotees come here from different parts of the country to offer prayers and seek the blessings of the Lord. The place witnesses exceptionally large crowds during the Rath Yatra Festival, whether the deities of Lord Jagannath Temple are taken out in a procession. Reaching the holy city of Puri is very easy, as it is well connected with the rest of the country, via air, rail and road. In this article, we have provided information on how to reach Puri.
By Air
Bhubaneswar serves as the most convenient entry point for traveling to Puri by air. The capital city of Orissa is linked with all the major cities of India, such as Kolkata, Delhi and Hyderabad, by direct flights.
By Rail/Train
Puri has a good railway network also. Regular trains operate from the railway station in the city, connecting it with almost all the major cities of Orissa as well as the rest of the country.
By Road
Puri has a good network of roads, connecting it with the major parts of India. For getting to Puri from some other city of Orissa, it is best to travel by road as it is a very convenient and inexpensive option. Government State Transport and Orissa Road Corporation buses regularly ply between Puri and Bhubaneswar, Kolkata, Chilka, Konarak, Chennai, Sambalpur and Visakhapatnam.