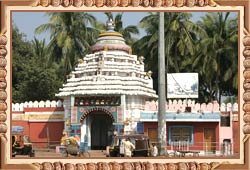 Location:
Northeastern side of the Jagannath temple
Founded In:
16th century
Significance:
Believed to be the dwelling place of Lord Krishna's aunt
Gundicha temple is one of the most renowned temples in Puri, located on the northeastern side of the Jagannath temple. The origin of the temple can be traced back to the sixteenth century. During the Rath Yatra, the idols of Lord Jagannath, Lord Balabhadra and Goddess Subhadra are seated on ornately decorated chariots and taken to the Gundicha Mandir only. The deities stay there for a period of seven days and thereafter, come back to the Srimandir in a similar procession.
The temple is thoroughly cleansed a day before the commencement of the Jagannath Rath Yatra. Gundicha Temple is considered to be the home of the aunt of Lord Krishna. However, the temple has been named after the King Indradyumna, who was also known by the name 'Gundicha'. This is because he was the one who laid the foundation for establishment of this temple. One of the highlights of the temple is a huge dome that is adorned with the wheel of Lord Vishnu.