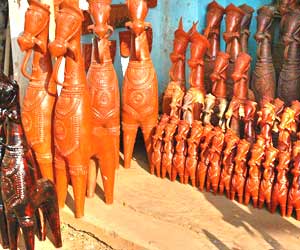 Bankura horses are counted amongst the most famous crafts of West Bengal. They are used for decorative as well as religious purposes. These attractive horses, made from terracotta, can add class to any Bengali living room. In fact, you will generally find a pair of terracotta horses in at least one corner of most of the Bengali homes. They not only adorn the ambience, but also stand as a symbolic representation of artistic skills and craftsmanship of West Bengal. Interestingly, on the packets of most of the Indian handicrafts exported abroad, you will find the logo of the famous Bankura horse.
The tradition of the use of Bankura horses for religious purposes in Bengal is very old. It is said that the potters of Panchmura, a city 16 miles away from Bishnupur (in Bankura district), started making the famous Bankura horses, a long time back. Symbolically related to the Sun God, the local god of Bankura, they are regarded as the holy horses used in the chariot of God Dharmaraj, a form of Sun God worshipped in Bankura. This is the reason why the presence of Bankura horses in a home is thought to be auspicious.
Bankura horses are made using the traditional terracotta method. The tools used for shaping them are made up of bamboo and stones. The body parts of the horse are created separately. The four legs, the neck - comprising of two separate parts and the face - made up of seven different pieces, all are made individually. The ears and tails of the horse, also made discretely, are superficially attached to the other body parts, with clay paste, and smoothened to give finishing. Thereafter, they are dried in the sun, colored and burnt in kiln.
Bankura horses are about 6 inches to 4 feet in height. They have exceptionally erect neck and ears and look dynamic with their wide jaws. The eyebrows sketched on the forehead of the horses are decorated with Chandmala, making them look more interesting. Due to their growing popularity, the modern form of Bankura horses has come up in dokra and wooden forms. Apart from Bishnupur, you can also get these unique horses in Biboda, Kamardiha, Jaikrishnapur, Nakaijuri and Keyaboti cities of West Bengal.