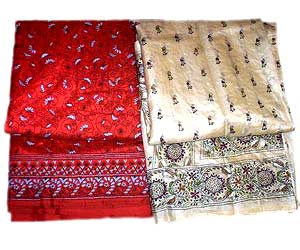 West Bengal is famous for the variety of arts and crafts it offers. One of the most famous amongst them is the fine embroidery of West Bengal. Of the several stitches and embroideries famous in West Bengal, Kantha embroidery holds a very special place. One of the finest classes of embroidery, Kantha is popularly used on saris, dhotis, quilts, bed-sheets, pillow covers. This kind of embroidery, popular called Kantha stitch, is very popular amongst the tourists visiting West Bengal, from India as well as abroad. The finest quality of Kantha garments can be brought from Bolpur and Shantiniketan cities.
Kantha embroidery is classified into Lepkantha and Sujni Kantha, depending on the use of the finished products in the art. The embroidery basically involves outlining decorative motifs with running stitch, using colorful threads. There are several patterns that can be used to cover the entire cloth. They include folk designs, floral designs, animal and birds motifs and beautiful geometrical shapes. Generally, the cloth used for Kantha stitch is in white or some light color, which makes the beauty of the embroidery more perceptible. However, the embroidery can be used to beautify a dark-colored cloth as well.
It is interesting to know that the beautiful Kantha stitch, which has become a craze in fashion world now, did not emerge as fashion discovery. A few years back in Bengal, the stitch was typically used to sew and layer together old saris and cloth, to make light quilts for children. However, as simple stitches gave a little shabby look, people started using simple motifs. This is how the Kantha embroidery came into being. The contemporary Kantha embroidery is not limited to multi-layered saris or dhotis. Today, it is seen on the beautiful garments, like saris, dupattas and ethnic wears for men and women, apart from bed linen and cushions. The best fabrics used for Kantha stitch are cotton and silk.