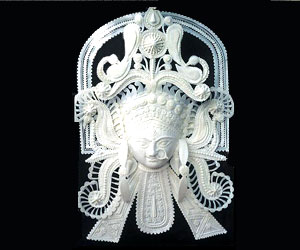 West Bengal is famous across the world for its art and craft. There are umpteen varieties of crafts in the state, all of which promise to woo your heart. One of them is the beautiful milky-white sponge-wood craft, known as 'Sholapith'. The material for the craft is derived from Sola, a plant of bean family - generally found in marshy waterlogged areas. It is basically the cortex of the plant - Sholapith, around 1½ inch in diameter, which is used in the craft, for making various beautiful and lightweight decorative items, thus the name.
Sholapith is very similar to the artificially-prepared thermocol in appearance. However, in terms of quality, the former has an edge over the later, when it comes to malleability, texture, luster and sponginess. It is used for making impressive decorative items, like ornate head-wears of bridal couple, garland, decorative fans, animals, birds, dolls, images of gods and goddesses, elephant-howdahs, peacock-boats, palanquins, flowers and various kinds of crowns. However, the finest Sholapith works can be seen during Durga Pooja, when the massive backdrops of the temporary temples are built as the stage.
In appearance, Sholapith crafts look quite similar to the expensive ivory items. This is the reason why they are, interestingly, termed as 'herbal ivory'. The use of Sholapith, instead of ivory, in decorative pieces is considered to be eco-friendly and economical. This craft has recently gained attention in the global market. Murshidabad city of West Bengal is famous for this exquisite representation of this craft. Other than that, the places in West Bengal renowned for this craft are Birbhum, Nadia, Hooghly and Burdwan.