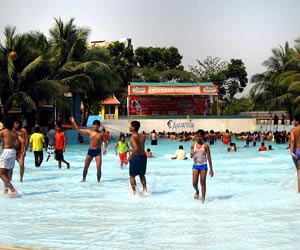 Location:
Kochpukur, Rajarhat
Spread over:
8 acres
Highlights:
Largest theme park in Kolkata
If you are not much of a sightseeing person and still wish to have fun in Kolkata, do not worry! The city still has many more things to offer you. For all those people who love partying, outing and hullabaloo kind of fun, Kolkata has many places worth visiting. The best amongst the lot is the Aquatica Water Theme Park. Spread over an area of approximately 8 acres, it is not only the largest theme park in Kolkata, but also one of the largest in India. The sheer fun expeditions that Aquatica offers are incomparable to anywhere else in the city.
The water theme park Aquatica was started in Kolkata in the year 1999. Until the inauguration of Wet 'O' Wild some time back only, it was the only water theme park in Kolkata. Located in Kochpukur, Rajarhat, it is accessible from Keshtopur area by auto rickshaw. You can even take a taxi from the E.M. Bypass. Free pick and drop facility is also provided by the Aquatica Management from the Nicco Park. The nearest metro station and sub-urban railway to this park is located at Dum Dum.
As you come near Aquatica, you see an archway created by colorful flags fluttering at the top, welcoming you to a spot of colorful fun and sheer relaxation. Once you get inside the park, you are mesmerized by the wonderful water kingdom. Inside the water park, you get an opportunity to enjoy varied and wild water rides, like Black Hole, the Wave Pool, Niagara Falls, Tornado and the Aqua Dance Floor. There is also a cyclone pool at the park, where you can actually feel the Tornado.
The best feature of Aquatica Water Theme Park is the discotheque on water, known as 'Aqua Dance Floor'. It provides you the pleasure of getting drenched in the heavy rains of monsoon, with the fun and wildness of dancing. You can enjoy the best of it in scorching summer months, when Kolkata almost becomes as hot as a caldron. You can, at times, also get to enjoy several parties and fashion shows organized here. For carting lovers, there is a GoKarting track, just adjacent to Aquatica.