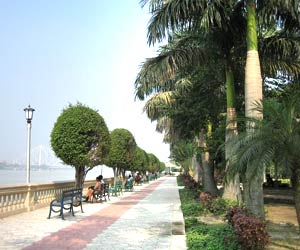 Location:
Eastern shore of Hooghly River, Kolkata
Spread over:
2.5 km
Kolkata is adorned by the beauty of River Hooghly. The lush greenery and serene atmosphere surrounding the river are surely captivating. In fact, lots of tourism spots have been developed around the river, of which one is the Millennium Park. A relatively new park in the city, it was inaugurated on December 26, 1999 and opened to the general public on January 1, 2000. This park was built by Kolkata Metropolitan Development Authority (KMDA/CMDA), adorning the surrounds of the river.
The Millennium Park of Calcutta is situated along the eastern shore of Hooghly and stretched over an area of 2.5 km. It has beautiful landscaped garden, with beautiful and proper sitting arrangements, where you can sit and peacefully enjoy the beauty of the location. Apart from this, there is an exclusive children section, where there are merry-go-rounds, slides and swings. It also has a food-joint inside its premises, which offers delicious cuisines. Apart from all this, there are beautiful hut shaped shelters, to rest and enjoy.
The land of Millennium Park belongs to the Kolkata Port Authority. The park was developed at the place, in order to promote tourism of this area, which near to the riverside. Being situated along the riverside is one of the unique characteristics of the place, which adds to its beauty. Thousands of people come here every day. However, the best time to visit the place would be during evening, when colorful lights adorn the beauty of the place. Millennium Park is surely a nice place to sit and enjoy a few moments of solitude.