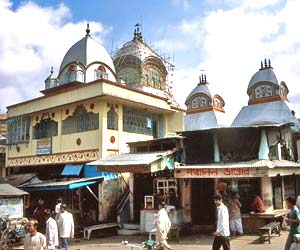 Location
: South Kolkata
Highlights
: Kalighat Kali Temple, Rabindra Sarovar, Birla Academy
Kalighat is one of the most famous localities in Kolkata. Located on the southern block of the city, about 6 km away from its centre, Kalighat is place of historical and religious significance. It is often said that the city was named Calcutta after this famous place only. The place also houses one of the Shaktipeeths in the country, where the toe of Sati is supposed to have fallen in the course of Shiva's dance of cosmic destruction.
Located on the bank of river Bhagirathi, Kalighat is basically a suburb of Kolkata city. This place has excellent transportation connectivity. Kalighat Metro Station is the nearest & most preferred transportation mode for reaching this place. The place is basically famous for three sites - Rabindra Sarovar, Birla Museum and Kalighat Temple. The local market here is famous for Kalipat chitra and several religious items as well.
Kalighat Temple
Kalighat Temple is dedicated to Goddess Kali, the principal deity of West Bengal. It is amongst the 52 Shaktipeeths in India. It is said that a devotee once saw an illuminant ray of light emerging out of the Bhagirathi river bed. He also found a Syayambhu Lingam of Nakuleshwar Bhairav there. From then onwards, he started worshipping Kali in the forest, at the site of the present temple.
Rabindra Sarovar
Rabindra Sarovar is the name of an artificial, but extremely beautiful lake, which stands surrounded by pleasing and soothing environs. There are overhanging trees all around the lake, apart from a rowing club, swimming pool, children's park and open air theatre 'Mukta Manch' in the vicinity. There is also a small island at the south of the lake.
Birla Academy of Art & Culture
Birla Academy of Art and Culture Museum will be a wonderful destination for you, if you are interested in art and archeology. This academy, established in 1966, offers you a wonderful collection of some medieval and modern era paintings and some archaeological specimens. This place also houses a vast collection of miniatures and manuscripts.