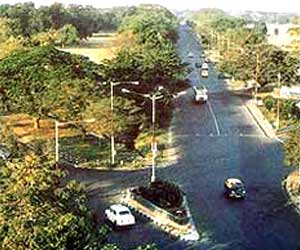 Maidan is one of the most well known locations in Kolkata. Similar to its name, it is an open ground in the city (the largest). This is the reason why it is popularly referred to as the lungs of the city as well. Stretching on for about 3 km in length and 1 km in width, this field encloses umpteen play grounds and fields, including the famous cricketing ground Eden Gardens and Kolkata Race Course. Apart from the fields and stadia, it also encloses the famous Victoria Memorial Museum.
Several popular tourist destinations of Calcutta lie in the vicinity of Maidan and one of them is the famous Fort William, which was built immediately after the Battle of Plassey. This fort was built under the supervision of Robert Clive, from 1757-1781. The main purpose behind constructing it was to safeguard the British and their heirs in the country as well as to check the expansionist urges of other European powers in India. The estimated cost of its construction was 2 million pounds.
Fort William is irregularly octagonal in shape, with its three sides surrounded by the River Hooghly. It has been built of thick mortar and brick, with six entry gates namely Chowringhee, Plassey Calcutta, Water Gate, St Georges and the Treasury Gate. The foundation of the old fort still stands it grounds. Till date, it is a military area and the arsenal inside it is worth watching. The fort has a telephone office, recreation club, canteen, theater, restaurant, swimming pool and even a moat around it.
While the Maidan is open to visitors throughout the day and night, for visiting Fort William and its arsenal, special permission has to be taken from the Commanding Officer. The fort is heavily guarded by the Indian Army as it is used as the headquarters of the Eastern Command of the Indian Army. While visiting the Maidan and Fort William, you can also pay a visit to the Indian Museum, Sahid Minar, Victoria Memorial, Rabindra Sadan, Race Course and Eden Garden, situated near by.