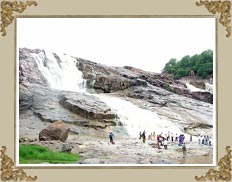 Adilabad is a famous town situated in the state of Andhra Pradesh. Being the headquarters of Adilabad district, it gets a special attention from travel and tourism point of view. The district is sited on the northern borders of the state, where Indian rivers like Godavari, Penganga and Wardha move across its expanse. Established in the year 1905, Adilabad has derived its name from the erstwhile ruler of Bijapur, Adil Shah. In the bygone era, the place has been ruled by the Mughals, Mauryas, Satavahanas and Chalukyas as well.
Adilabad was known as Ethlabad in the earlier times. It has been influenced by a variety of cultures and customs during the reign different rulers. In the present day, the culture of the region appears a blend of the native Telugu culture and the contiguous Marathi culture. With such fusion of cultures, Adilabad perhaps sounds interesting and a place worth exploring. The whole region appears to be set in the lap of the nature.
Encircled by mountains and lush green woods, Adilabad is hallowed by the rumination of blessed souls like Ved Vyas. It is a place where you can see gushing waterfalls, invigorating rivers and interesting wildlife, inciting your nerves. It is also a prosperous business center of cotton, acclaiming it as the 'City of Cotton'. In short and snappy terms, Adilabad is a wonderful tourist destination where both, adventure and sacrosanct appear alongside.