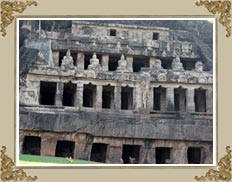 Guntur is a commercial town in the heart of Andhra Pradesh. In fact, it is a major producer and exporter of chillies, cotton and tobacco from India. Being the headquarters of Guntur district, this city serves as the main financial and administrative center. Moreover, it also makes the best possible place to travel around the region. In the vein of other parts of the state, Guntur also boasts of interesting history and rich culture.
Guntur, acknowledged as a major transportation and textile hub, is also the learning centre of the district. It houses heritage monuments, which are testimonies of the royal period. Owing to the propinquity of Krishna Delta, the region has got one of the moast fertile lands in the country. Krishna, Chandravanka, Naagileru and Gundla Kamma are the major rivers that please its dwellers with their unsoiled waters.
Tobacco Board of India has its corporate headquarters in Guntur. It also has the distinction of embracing world's largest masonry dam - Nagarjunasagar. Ancient temples, historical sites, striking forts, chirpy rivers, lush vegetation and remarkable handicrafts make the region a perfect destination to explore. In the company of such great tourist attractions, Guntur is a promising site for the tourism industry.