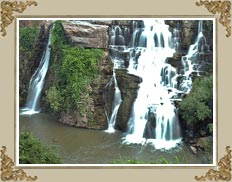 Guntur perhaps doesn't have many places within the city, but it has many interesting places around its borders. Infact, the tourist places near Guntur would make excellent excursions from the city. In outskirts, the city has as many places as you can think of. Whether it is waterfalls or wildlife sanctuaries, excavated sites or splendid temples, Guntur has numerous places to move around and enjoy your trip to the fullest. There are many historical sites to take you back to the times of the majestic rulers too. Scroll down to catch more on excursions from Guntur.
Nagarjuna Sagar Dam
Nagarjuna Sagar Dam is certainly the pride of India, since it is the tallest masonry dam in the world. This colossal dam supplies water for irrigation purposes to the districts like Nalgonda, Prakasam, Khammam and Guntur in Andhra Pradesh.
Nagarjunakonda
About 1700 years ago, Nagarjunakonda used to be a prosperous Buddhist town in Andhra Pradesh. What had been a successful centre in earlier times, has been preserved in the form of an island at present. Infact, it is one amongst the 20 major Buddhist sites in India.
Undavalli Caves
Undavalli Caves are striking specimen of Indian rock-cut architecture. Built during the 4th-5th century, these caves are to be found in Undavalli village, about 32 km from the Guntur city of Andhra Pradesh. Their structure suggests that they have been erected out of solid rock on a hillside.
Nagarjunasagar Srisailam Sanctuary
Sprawled over an area of 3,568 sq km across the Nallamalai Hills, Nagarjunasagar Srisailam Sanctuary is acclaimed to be the largest tiger reserve in India. The wildlife haven houses various exotic species of flora and fauna. Adjoining the large reservoir of Nagarjunasagar Dam, the sanctuary is renowned for its rugged terrain, meandering gorges and deep valleys, along with dry deciduous forests.
Ethipothala Falls
Located about 11 kms from Nagarjunasagar Dam, Ethipothala Falls presents a breathtaking sight with its cascading waters. Chandravanka River, a tributary of River Krishna, provides shimmering waters to this picturesque waterfall. From the height of 70 feet, the river falls into a lagoon. Nearby the fall, there is a rock-cut temple, dedicated to Dattatreya Swami. Another draw is the crocodile breeding centre in the vicinity.
Bhattiprolu
Bhattiprolu is a small hamlet, situated at a distance of 32 km from Guntur. It is well known for its Buddhist stupas built during 3rd-2nd century BC. It was originally known as Pratipalapura. During the excavations carried out by Alexander Rea in 1892, valuable jewels and the relics of Buddha were discovered in crystal caskets here. The Mahachaitya (great stupa) was also found here along with a number of small stupas, containing numerous images of Buddha.
Kondaveedu Fort
Kondaveedu Fort is to be found at a distance of 25 km from Guntur. It was built during the rule of the Reddy kings. Located on a hilltop, this historical fort offers around 21 structures to be seen. There are also many temples, residential structures, pillared halls and the entrance gate ways worth seeing here. The panoramic view from the summit is awe inspiring and is ideal for trekking. The Gopinatha Temple and Kathulabave at the foothill are other major attractions of Kondaveedu.
Kotappakonda
Sited about 40 km from Guntur, Kotappakonda is known as the abode of Trikoteswara Swamy. Originally named as Kondakavuru, Kotappakonda or Trikutaparvatam literally means 'a hill with three peaks'. These peaks have got their names from the Hindu Trinity of Brahma, Vishnu and Mahesh. Every year, during the festival of 'Mahashivratri', a grand celebration is observed at the temple.
Guthikonda
Popularly known as Dakshina Kashi, Guthikonda is renowned for embracing ancient caves amidst thick forests. The perfect landscaping along with greenery and hills attracts plenty of visitors around the year. Another interesting fact is that these caves contain relics of the heliolithic times. Guthikonda is a nice destination to go for trekking too.
Sitanagaram
Sitanagaram is a small town located about 26 km from Guntur. Being sited on the banks of Krishna River, Sitanagaram boasts of a vast sandy beach that makes an ideal destination for recreational activities. Someswara Swamy Temple is the major attraction of the town. It is believed that Lord Rama wept here for Sita, when she was kidnapped by Ravana. Perhaps Sitanagaram was named after this mythological event only.
Chebrole
To be found at a distance of 15 kms from Guntur, Chebrole is renowned for its Brahmalingeshwara Temple and Nageshwara Temple. In the former shrine, you can see a beautiful image of Chaturmukha Brahma, or Lord Brahma, with four faces, while the later one has a colossal image of Nandi. In the earlier times, Chebrole had been influenced by the Pallavas, Chalukyas and Kakatiyas. Though in ruins, Chebrole Fort depicts the legacy of the era.