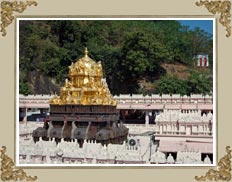 Vijayawada, the City of Victory, is a famous city that is situated on the banks of Krishna River in Andhra Pradesh. Known for comprising the largest railway junction of South India, Vijaywada is encircled by the Indrakiladri hills on its west and Budameru River on its north. Along with being prominent for commerce, the city is also a blossoming tourism destination in Krishna district. In earlier times, it is believed to have been visited by the Chinese traveler, Hieun T`sang.
Apart from its mythological significance, Vijaywada has also contributed to the economic and fiscal reasons of the district as well as the state. This third largest city of the state is also known as Bezawada. It also serves as the venue for Krishna Pushkaram, which is an all-India festival celebrated once in twelve years. The spirituality also comes alive in the excavated sites of Buddhist stupas like Amaravati, Gudivada, Ghantasala etc.
Amidst rich vegetation and striking temples, the region looks really entrancing. It also has the distinction of having Prakasam Barrage, which is more than 1000 meters long and comprises both rail track and road. Besides temples and stupas, Vijayawada has many historical places that could be of your interest. Travel to Vijayawada and see for yourself the vibrant people and rich culture of this cultural capital of Andhra Pradesh.