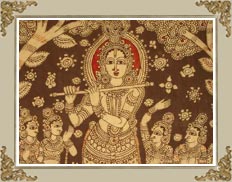 Andhra Pradesh is a multifarious state that has covered each and every aspect of existence, all-embracing from technology to arts and crafts. The arts and crafts of the state comprise of a remarkable range of handicrafts, paintings and handlooms. Infact, the culture of Andhra Pradesh is never complete without a mention of its astonishing art and craft. The various forms of arts and crafts are exclusive to this state and cannot be found elsewhere in India.
Be it toys, metal crafts, brass ware, stone craft, sarees or paintings, the expertise of artisans lie in the traditional practices that are still observed to make things. The handlooms of Andhra Pradesh have an appeal that allures not only Indians but foreigners as well, with their rich texture. These curios can make amazing gifts for your near and dear ones. Click on the following links to get more information about the art and craft of Andhra Pradesh.
Handlooms
Renowned for its handlooms, Andhra Pradesh is an ancient institution of hand-woven fabrics. It produces the most exclusive sarees and dress-materials, having delicate and distinctive designs. Each saree boasts of an intricate 'pallu' and delicate border adorned with gold thread work.
Handicrafts
Handicrafts have always been a remarkable feature of Indian art and crafts. Andhra Pradesh is yet another great site offering ample astounding handicrafts. The artisans still make these extraordinary handicrafts with dexterity. Whether it is needle craft or bronze castings, metal craft or stone craft, Andhra Pradesh has a wide array of handicrafts that can become a part of your lifestyle.
Paintings
Andhra Pradesh has a rich culture of arts and crafts, which appear all the more appealing in its paintings. This fascinating form of art is an age-old tradition of the state. These paintings employ the excellent workmanship and dexterity of skilled artists. The traditional art of painting exercises natural colors on the canvass.