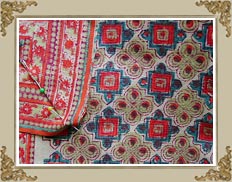 Renowned for its handlooms, Andhra Pradesh is an ancient institution of hand-woven fabrics. It produces the most exclusive sarees and dress-materials, having delicate and distinctive designs. Each saree boasts of an intricate 'pallu' and delicate border adorned with gold thread work. The looms of Pochampalli, Venkatagiri, Gadwal, Narayanpet and Dharmavaram are well-known for their silk and cotton sarees all over India. Usually, both the loom and the fabric are known by the name of the place. Each loom is recognized with its distinct weaving style and variety of fabric. In Andhra Pradesh and most other southern states, cotton and silk are the two most preferred fabrics. Some of the famous handlooms of Andhra Pradesh are as follows.
Kalamkari Fabrics
Kalamkari is essentially an art of painting and printing fabrics. The Kalamkari fabrics are known world-wide for their attractive designs on carpets, bed sheets, wall hangings, sarees, chintz, table clothes and curtain clothes. Polavaram and Pedana are the major centers of manufacturing Kalamkari block prints. During the rule of Qutub Shahis, Kalamkari art was introduced in the region. Commonly used designs include flowers, birds and animals.
Ikat Weaving Handlooms
Originated in Nalgonda district, Ikat is an expertise of weaving randomly dyed yarn in natural zigzag or geometric patterns. This art of weaving has been recognized throughout the world. In the present day, Ikat weaving is practiced in the villages like Puttapaka, Pochampalli and Chautuppal. Exclusive to Andhra Pradesh, Ikat technique of weaving is extremely popular throughout India.
Chirala Textiles
Eminent for its textiles, Chirala produces some of the best fabrics of Andhra Pradesh. Here, a large amount of oil is used while preparing yarn for weaving. As soon as the fabric is made, it is smeared with wax & clay and finally, it is dyed in selected colors. Chirala is famous for its bedspreads, curtains, tapestry fabrics and sarees.
Gadwal Sarees
Gadwal has been known worldwide for its beautiful sarees. The main charm about their saree is that its body is of cotton, whilst the border and pallu are in silk. Actually, the cotton and silk fabrics are woven individually and then attached together to make a complete saree. The 'pallu' and the border are adorned with rich traditional designs.
Dharmavaram Sarees
Dharmavaram is renowned for its fabulous silk sarees throughout the world. These sarees comprise simple and plain borders without much contrast. Usually, the borders are wide, having brocaded gold patterns and 'pallus' with elegant designs. Dharmavaram is also acknowledged for its leather puppets.
Venkatagiri Sarees
Venkatagiri sarees are known for being adorned with gold threads. Available in cotton and silk, these sarees have borders with pure silver or gold 'zari' (threads) and brocade designs. They are dyed in rich colors with golden dots, leaves, parrots or simple geometrical designs.
Eluru Carpets
Eluru is illustrious for its flourishing woolen carpet industry. During the Mohammedan rule, the Persians, who migrated here, started the carpet industry. Today, it has become a major part of Andhra handlooms and most of the carpets manufactured here are exported.
Mangalgiri Handlooms
Located at a distance of 12 kms from Vijayawada, Mangalgiri is a famous pilgrimage center in Andhra Pradesh. Mangalgiri is popular not only for its temple, but also for its elegant cotton sarees and dress materials.
Uppada Sarees
Uppada is a beach town that is located at a distance of 20 kms from Kakinada. This place is famed for its skillfully designed cotton sarees. One can purchase these beautiful sarees at Peddapuram and Bandarulanka.