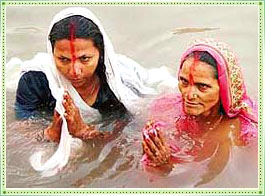 Chhath or Dala Chhath is one of the most famous Hindu festivals of India unique to Bihar and Jharkhand. Chhath means the number six in Hindi. It is so because the festival begins on the sixth day of the Hindu lunar month of Kartik (approximately Oct-Nov). Chhath begins a week after Diwali and continues for four days. This festival is dedicated to the Sun God, to thank him for bestowing the bounties of life in earth and fulfilling particular wishes. It is also believed that worshipping of the sun would help cure a variety of diseases, ensure longevity and prosperity of the family members, friends, and elders. According to some local folklore Chhath was started by the great Danveer Karna, the son of the Sun God who fought against the Pandavas in Mahabharata war.
Although unique to Bihar it is also observed in some parts of Uttar Pradesh, West Bengal, Orissa and Assam and even by migrated Bihari in other parts of the country. The main worshipers either man or woman called Parvaitin is usually a senior member of the family. The Parvaitin goes through a period of abstinence and ritual segregation from the main household for four days. During this period, the main worshiper observes ritual purity, sleeps on the floor and takes a single meal in the whole day. The parvaitin pray for the well-being of their family, prosperity and offspring. Before Chhath houses and surrounding are cleaned. Day one of the festival is known as Naha-Kha. The worshiper cooks a special meal and offers it to the Sun God. Kharna a ritual is performed on the second day after the setting of the sun. From here onwards the Parvaitin goes on fast for almost 36 hours without even water.
On the next day evening the bathing ritual is performed on the bank of a river or water body accompanied by all family members, friends and relatives. On this occasion women sing folk songs along with bathing rituals. On the following day evening same bathing ritual repeated and here the Parvaitin breaks his/her fast and finishes the ritual. A special type of Laddoos is made in the Chhath which is made of rice flour, dry fruits, nuts and sliver of coconut. Besides a traditional cake called Thekuwa is also prepared from wheat flour. It is a very colorful festival and new clothes are a must for the devotees. There is much music and a lot of singing of folk and devotional songs, dancing and marry making whereby people try to relieved of some painful events of the year.