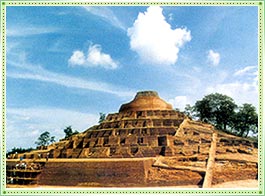 One of the administrative districts in Bihar, East Champaran forms a part of the Tirhut division. Its district headquarters are located at Motihari. The name Champaran is derived from the word from 'champa-aranya'. While 'Champa' or 'Champaka' means magnolia, 'aranya' means forest. Combining the two, the word 'champa-aranya' or more popularly Champaran means a forest of magnolia trees. While the nearest airport - that of Patna, is at a distance of about 149 km, the place is well connected with all major Indian cities, by road. The nearest railhead from East Champaran is at Chakia, located 22 km away.
Champaran district has a very long history, which dates back to the pre-historic era. It is believed that old Champaran, which has now been split into two separate districts - West Champaran and East Champaran, was a part of the ancient Videha Kingdom. The Sunga and Kanvas are also believed to have ruled over the region. Later, Champaran became a part of the Gupta Empire. In thirteenth century, Muslims influenced the region, which later saw the annexation by the Mughal Dynasty. In the independence movement, Champaran supported the non-co-operation movement started by Gandhiji.
Champaran poses as a great place for tourists. The major places of tourist interest in East Champaran comprise of Mehsi, Phenhara, Raxaul, Adapur and Lauria. The district gives its visitors a complete package. From history to scenic beauty, there is something for everyone who comes visiting East Champaran. The Baikunthnath temple is a very important temple in the east Champaran district, situated in Baikuntha dham. The temple has a single idle of Shiva, Parvati and Ganesh. The mazaar of Hazrat Maulana Mohammad Abdul Aziz is yet another tourist attraction that is worth visiting.
Kesariya
Situated in the East Champaran district of Bihar, Kesariya region serves as the place of the largest Buddhist stupa in the world. Kesariya stupa, as it is known, is located at a distance of about 110 km from Patna, the capital of Bihar.
Places To See In East Champaran
East Champaran, an administrative district of Bihar, is blessed with lush green surroundings and myriad tourist attractions. The district is significant in terms of mythology as well as history,
How To Reach East Champaran
East Champaran is an administrative district of Bihar, with its headquarters located at Motihari. Nature's scenic beauty is unfolded in the lush green landscape of the district.