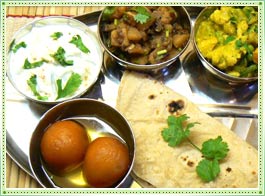 Bihar, one of the largest states in India, in terms of area as well as population, is known for its association with Lord Buddha. A land-locked state, it falls mid-way between West Bengal in the east and Uttar Pradesh in the west and stands bounded by Nepal in north and by Jharkhand in south. It served as a center of power, learning and culture in ancient India and now, is regarded as a major tourist destination. Apart from its varied attractions, the state is also known for its luscious cuisine, with sweets forming a major specialty. If you want to know more about Bihari cuisine i.e. the traditional food of Bihar, make use of the information provided in the lines below.
Sweets
Laddoo (Maner)
When the talk is about Bihari cuisine, how can one forget the laddoo of Maner. Laddoo is the name given to a sweet-ball made that is made from gram-flour, sugar and ghee. Though you will find laddoos in every sweet shop of Bihar, the ones made in Maner, about 30 km west of Patna, are the best.
Khaja (Silao)
Silao village, situated about 15 km from Biharsarif and 8 km from Rajgir, is known for its ancient tradition of khaja making. A sweetmeat prepared with maida (wheat-flour), sugar and ghee, it is available in many varieties - Chandshahi, Round, Palvidar and Gandhi Topa. Amongst these, the one with rectangular shape is the most popular.
Belgrami (Udwant Nagar)
Belgrami is another sweet preparation of Bihar, which is made from cheese, sugar and ghee. The place in Bihar that is most famous for this sweetmeat is Udwantnagar, which falls between Arrah and Buxar.
Tilkut and Anarsa (Gaya)
Gaya is not only famous for its association with Lord Buddha. It is also known as the place with Tilkut and Anarsa as its specialty. While Tilkut is made from with white sesame seeds (til) and sugar, Anarsa comprises of a combination of rice flour, white sesame seeds and sugar. The Ramna Road of Gaya is the place where you should head to, for tasting these sweets.
Malpua
If you happen to visit Bihar anytime in the future, make sure to taste the luscious malpuas that form a specialty of the state. A malpua is prepared from a combination of maida, milk, banana, grated coconut, cashew nut, raisin, sugar, water and green cardamom, fried in ghee.
Laai (Barh)
Barh is a small town in Patna district that lies between Bakhtiarpur and Mokama. It is famous for Laai, a ball or cake-shape sweet that is prepared with 'Khobi' or 'Ramdana' seeds, 'khoa' and sugar.
Sonpapdi (Buxar and Munger)
Sonpapdi is a sweet for which the entire state of Bihar is popular. Still, it forms a specialty of the towns of Buxar and Munger. Sonpapdi is prepared by combining sugar, gram-flour and ghee.
Perukia (Chhapra)
Perukia, for which Chhapra town of Bihar is famous, is a cake-like preparation. It is prepared by mixing sooji (semolina) or khoa with sugar and wrapping the mixture in thin-leaves made from a mix of maida, water and ghee. The resultant sweet is then deep fried in ghee and served.
Balushahi (Runi Saidpur)
Runi-Saidpur, which falls on the Muzaffarpur-Sitamarhi route, is the town that is famous for its Balushahi. The sweet comprises of a specially treated combination of maida (wheat floor) and sugar, which is cooked with ghee.
Kheer Makhana (Darbhanga)
If you have come to Bihar and not tasted Kheer-Makhana, then your trip is as good as incomplete. It is a sweet dish prepared with milk, sugar and makhana, considered to be a specialty of the Darbhanga region of north Bihar.
Shakarpara and Thekua
Shakarpara and Thekua are the sweets made from maida (wheat floor) and sugar. They are prepared only on special occasions, by straining the combination of maida and sugar in ghee.
Special Bihari Food
Dalpuri
In context of the traditional food of Bihar, dalpuri is the first name that comes to mind. It is basically a type of bread, made of salted wheat flour, which is filled with boiled-crushed gram-pulse that has been fried with special spices. Though mostly a domestic preparation, it can be had in restaurants as well as from roadside-vendors.
Litti - Chokha
Litti is another main-course dish that forms a part of Bihari cuisine. It is nothing, but wheat flour cake that has been salted and baked. Litti is filled with sattu (fried gram flour) and some special spices and served with ghee.
Baingan-ka-Bharta
Baingan-ka-Bharta, though not a traditional Bihari dish, can be commonly found in the Bhojpuri speaking belt of North-Western Bihar. It basically comprises of baked Brinjal, treated with spices.