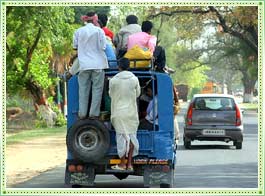 Demographically and geographically, Bihar is one of the largest states in India. The state boasts of many landmark destinations. Moving around the cities is a trouble-free experience if you have your private vehicle. Otherwise, it becomes necessary that you avail local transport facilities to travel from one part of the state to the other. Though it sounds cumbersome, exploring this vast state by public modes of transport can be a thrilling experience. Get more information on the modes of local transportation in Bihar.
Trains
The railway network in Bihar is excellent and provides first-rate citizen centric railway services to the people. Most of the cities have a railway junction that facilitates railway travel across the state. You can easily travel from one part of the state to the other by trains.
Buses
State-transport as well as privately owned buses run throughout Bihar. Options, in the form of local buses, semi-deluxe buses, deluxe buses etc, are available for commuting from one city to the other. Most of these buses run on a daily basis. Mini buses also offer short distance services within the city.
Taxis
Taxis are another mode of public transport that helps traveling from one part of the state to the other as well as for traveling within a particular city. Metered taxis are most convenient for short distance travel.
Auto Rickshaws
Auto Rickshaws (metered) and tempos (not metered) are the most preferred modes of transport for traveling short distances, especially within the confines of a city. Auto rickshaws are very convenient if you travel in a group. The tempos on the other hand are often jam-packed. It is always better to avail metered autos if you are familiar with the route. Otherwise, you can negotiate the fare beforehand.