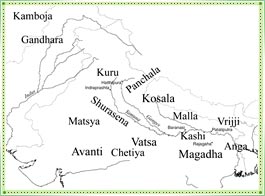 The fertile land of Bihar has a rich and very ancient history which even goes back to the very dawn of the human civilizations. Throughout the ages and civilizations it was remained a ground which gave birth to many great men who spread the massages of love, peace, brotherhood and humanity throughout the length and breadth of the globe. The earliest history of Bihar region can be traced in Hindu epic of Ramayana. The then Mithila was the birth place of Sita, wife of Lord Ram. As far as ancient history is concerned Bihar's journey started from the post Vedic age when there were number of Mahajanapadas or republics flourished in Bihar like Vaisali, Magadha and Videha. The first kingdom in Bihar was established by Bimbisara and his son Ajatshatru.
During this period two great persons of the history Gautama Buddha and Jaina Mahavir took birth and preached two great religions of Buddhism and Jainaism respectively. Gautama Buddha was enlightened at present Bodh Gaya and Jaina Mahavira attainted his salvation in present Pawapuri both in Bihar. As the wheel of history turned Bihar saw one the greatest empire in India. The Mauryan empire under some of the ablest rulers of the world like Chandragupta Maurya and Ashok flourished with the name of Magadha kingdom with Pataliputra as its capital. Kautilya, the author of Arthashastra, the first treatise of the modern science of Economics, lived here and was the advisor to Mauryan king Chandragupta.
It was during this period that Nalanda and Vikramasila flourished as international universities providing education to Indian and foreign students. Great travelers like Meghasthenes came to India during this time. Great empires of Gupta's and Harshavardhana also consists part of Bihar which further enrich its historical contents. In the mediaeval times Bihar was at its peak during the reign of Sher Shah Suri who started his journey to Delhi from Sasaram, Bihar. Bihar also left its imprint among various events of modern history of India. This region provided strong resistance to mighty British forces during 1857 sepoy mutiny under Kunwar Singh. From this fertile ground of Bihar Gandhiji started his political career with his active involvement in Champaran Satyagraha of 1917.
Some of the great revolutionaries of Indian Freedom Struggle like Khudiram Bose, Prafulla Chaki and Chandrasekhar Azad have strong association with Bihar. Bihar produced some of the great nationalists like Dr. Rajendra Prasad and socialist leaders like Jai Prakash Narain. Undoubtly as history of Bihar says it contributed a lot to social, cultural, religious, political and economic life not only of India but also across the world. The evolution and spread of Buddhism and Jainism are most significant.
The political, administrative and economic life also greatly shaped by some of the greatest account of these field like that of Chanakya and Meghasthenes. Culturally art, architecture, sculpture of Mauryan and Gupta's have great influences on many other styles that developed later on. In the field of education and knowledge Bihar's contribution is praiseworthy because of its ancient universities at Nalanda and Vikramasila. The inscriptions of Ashok, his Dhamma, and other features like Ashokan pillar have shaped the Indian every day life. The music, paintings, dance and songs of Bihar has always been a driving force of the Indian way.