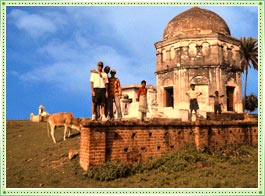 Munger, a city known for its rich and diverse cultural legacy, is situated in the Bihar and comes under the district of Munger. The district lies between 24°20' and 25°30' north latitudes and between 85°37' and 87°30' east longitudes. Located in the southern part of Bihar, it has its headquarters on the southern bank of river Ganges. Spread over an area of 1419.7 sq km, Munger district has an elevation that ranges from 30 to 65 m. It is divided into three subdivisions - Munger, Kharagpur and Tarapur.
The territory occupied by the present day Munger district was a part of Anga Mahajanapada. The city also has legendry association with Mahabharata, according to which it was ruled by Karna. Mudgagiri (Munger) served as the capital of the Pala Empire as well. Bengal Nawab Mir Kasim is said to have fought one of his last battles here, before the East India Company captured the eastern India. When Monghyr came into British hands, it was known as Monghyr and formed a part of Bhagalpur.
Munger was converted into a separate district only in the year 1832. Now, it has its own headquarters, by the name of Munger only. The historical town of Munger, besides its religious and historical importance, is also known for important industrial establishments. It has turned into an important business and commercial centre of Bihar. Some of the key industries of the country are sited in the city, among them Cigarette and Arms factories being the most prominent. This gives matchless urban frills to the place and provides it with a strong grasp as far as the economy of the state is concerned.
Bhimbandh Wildlife Sanctuary
Occupying an area of about 682 sq km, Bhimbandh Wildlife Sanctuary is located in the south-west of Munger District of Bihar. The sanctuary falls to the south of the river Ganges and is at a distance of 56 km from Munger.
Bihar School of Yoga
Yoga is the key ingredient to keep the mind as well as the body healthy and strong for lifetime. Established on this premise, Bihar School of Yoga dates back to the year 1964,
Bihar Yoga Bharati
Bihar Yoga Bharati (BYB) was established by Paramhamsa Swami Niranjanananda Saraswati, in the year 1994, as a charitable educational institution.
Places to See in Munger
Munger has always served as a traveler's paradise, with its rich religious and historical inheritance. According to the Mahabharata, Munger was ruled by the great warrior Karna.