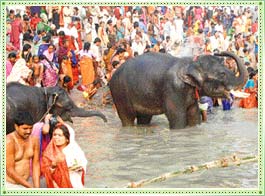 The Sonepur Cattle Fair/Mela or Harihar Kshetra Mela is held on the full moon day (Purnima) of the Hindu lunar month of Karthik (approximately November) in Sonepur, in the Saran district in the northern part of Bihar. The Mela held on the banks of river Ganga most particularly on the confluence of the Ganga and Gandak. Till date, it is the biggest cattle fair of Asia. The fair continues for about fifteen days to one month. According to local folklore Sonepur Cattle Fair revives the Gajendra moksha legend which is related to the Hariharanatha Temple in Sonepur.
The Sonepur Fair is of great antiquity because it has its origins during ancient times. History reveals that Chandragupta Maurya used to buy elephants and horses across the river Ganges. Then it attracted traders from several places as distant as Central Asia. The site of the present fair was originally at Hajipur but shifted to Sonepur during the reign of the Mughal emperor Aurangzeb. One of the purposes of the people visiting the Sonepur Cattle Fair, apart from the fair, is to take a holy dip and offer puja at the Hariharnath MahadeoTemple. From local folklore it is believed that the Hariharnath temple have been originally built by Lord Rama, on his way to the court of King Janak to win the hand of his daughter princess Sita.
After offering puja in Hariharanath temple the visitors visit the various attractions offered in and around the mela ground. They are attracted to varieties of shops selling varieties of products like garments, weapons, furniture, toys, utensils, agricultural implements, jewelry and handicrafts. Folk shows, games and jugglers further add to the attraction of the Sonepur Cattle Fair. Handicrafts, paintings and pottery from all over India can be seen here. For food loving people there are varieties of cuisine from almost all parts of the country.
But the most important of all attractions is the one where numerous elephants, beautifully decorated are lined up for sale. The Sonepur Fair is the only one where such a large number of elephants are sold. These are mainly purchased by different forest departments and people involved with logging operations. Apart from elephants, a large number of cattle, a wide variety of animals and horses are also brought to the fair for sale. Nearly all types of animals are bought to the Sonepur mela like dogs, camels, buffaloes, donkeys, ponies, monkeys, chimps, Persian horses, sheep, rabbits, bears, cats, and guinea pigs. All varieties of birds, poultry and fishes are also available.
How to Reach
Sonepur is 25 kilometers from Patna, the capital city of Bihar. By Air you have to reach Patna airport. By Rail you have to board a rail to Patna or Hajipur station. From Patna or Hajipur you can hire taxi/auto for Sonepur Mela.