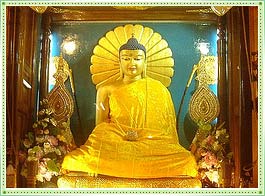 Bodh Gaya is the place where Gautam Buddha attained enlightenment under the sacred Asvatta tree (later termed Bodhi Tree). Buddhists all across the world consider the place the most sacred and this has become a pilgrim destination for them. Buddhists from all over the world have built temples here in Bodh Gaya. Bodh Gaya is located about 13 km from Gaya, 90 kilometers away from Patna, and 450 km west of Kolkata.
Bodh Gaya houses a splendid and magnificent Mahabodhi temple and the temple has Bodhi Tree. Both the temple and the Bodhi Tree are sacred for Buddhists across the globe. The temple is an architectural amalgamation of many centuries, cultures, and heritages. While its architecture has a distinct stamp of the Gupta era, it has later ages inscriptions describing visits of pilgrims from Sri Lanka, Myanmar, and China between seventh and 10th century AD. It is perhaps still the same temple Hieuen Tsang visited in 7th century.
In the year 1953, Bodh Gaya revisited its glory. A new stupa with the help of Japanese governments' donation was built in Gaya. Buddhists from Sri Lanka, Thailand, Myanmar, Bhutan, Korea, and Japan often visit to Bodh Gaya. Now one can see many Buddhist monasteries in and around the complex. Tourism peaks during winter season.
Bodh Gaya Tourist Attractions
Bodh Gaya, being the place where Gautam Buddha had learnt the eternal truth, is a popular tourist destination among Buddhists across the globe. There are a number of Buddhist monuments, temples and monasteries to see in Bodh Gaya.
Bodhi Tree
Contrary to general belief the existing Bodhi Tree is not the original Bodhi Tree under which Sidhartha Gautam had enlightenment. The existing tree is of fifth generation of original Bodhi Tree.
Places to See near Bodh Gaya
Bodh Gaya, the place where Gautam Sidhartha achieved enlightenment, is an important pilgrimage for Buddhists around the globe. Bodh Gaya has a lot to offer to its tourists in the form of tourist destinations.
Gurpa
Gurpa is located forty kilometers from Bodh Gaya. Gurpa is a small village, albeit important for Buddhists. According to Buddhist literature Maha Kassap, the disciple of Lord Buddha realized that his death was nearing and he started moving toward the hill where he wanted to take his last breath.
How to Reach Bodh Gaya
Bodh Gaya is included in four most important pilgrim destinations where a Buddhist has to visit in lifetime. Bodh Gaya is the place where Gautam Buddha attained enlightenment.
Mahabodhi Temple
The fifty meter high Mahabodhi Temple was built during the rule of the Guptas in the 5th century. This temple is considered among the oldest in Indian sub-continent temples.
Pragbodhi
Pragbodhi is the place where Lord Buddha spent some time before attaining enlightenment. The place is evidence of Gautam Buddha's efforts toward the eternal truth.
Bodh Gaya Weather
The city of Bodh Gaya is located at an altitude of 24º 41' 45'' N. Latitude and 85º 2' 22'' E. Longitude. Let's have a quick look at the weather and climatic conditions of Bodh Gaya.