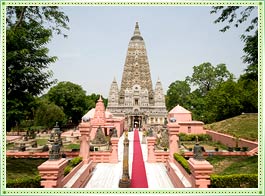 The fifty meter high Mahabodhi Temple was built during the rule of the Guptas in the 5th century. This temple is considered among the oldest in Indian sub-continent temples. The temple is jewel of architectural superiority and expertise. The Mahabodhi Temple Complex is one of the four holy sites related to the life of the Lord Buddha, and particularly to the attainment of Enlightenment. The temple is located near the spot where Gautama Siddhartha had attained enlightenment.
The first construction at Mahabodhi Temple was done by the Buddhist king Ashoka. The temple got its grandeur and splendid architecture during the Gupta period. The Mahabodhi Temple is considered as one of the earliest Buddhist temples built entirely in brick, still standing in India. The temple architecture is presentations of the architectural genius of the Indian people in constructing fully developed brick temples in that era.
The Mahabodhi Temple, one of the few surviving examples of early brick structures in India, has had significant influence in the development of architecture over the centuries. The sculpted stone balustrades are an outstanding early example of sculptural reliefs in stone. The temple is evidence of the history of Buddhism. Starting from the first erection of the shrine by Ashoka in third century BC and ending in sixth century AD, the temple gives clear picture of its developments in different phases.
The architectural beauty of temple is extraordinary. The four towers on the corners rise elegantly, escorting the main tower to an extent. Encircled on all four sides by stone railings, Mahabodhi Temple bears railings of two types, equally in style and material. The older railings are made from sandstone and trace their origin around 150 BC. Dating back to Gupta period, the other railings are erected from unpolished coarse granite.