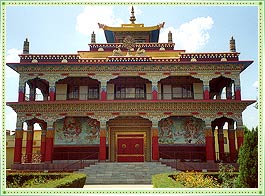 Bodh Gaya, the place where Gautam Sidhartha achieved enlightenment, is an important pilgrimage for Buddhists around the globe. Bodh Gaya has a lot to offer to its tourists in the form of tourist destinations. Besides Bodh Gaya, there are many places of tourist importance near the holy town. Places like Sonepur, Nalanda, Rajgir, and Patna are important excursions.
The history of Bodh Gaya is as old as old is the history of Buddhism per say, and even older than that. As written sources say the place had a flourishing and civilized population, assumptions are that the place was the part of sixteen republics. Why Gautam Sidhartha chose the place for meditation is obviously out of suspicion. The place is so quaint and peaceful that tourists themselves start feeling to do meditation.
Sonepur
25 km away from Patna is Sonepur better known for its big fair of cattle in the month of November. People from all across the India come here along with their cattle to sell or buy. The place has a temple of Hariharnath and dip at the confluence of Ganga and Gandak has great religious relevance.
Rajgir
Located at the distance of 102 km from Patna, Rajgir happened to be the capital of Magadha state before the establishment of Patliputra or Patna. Rajgir is a well-known pilgrimage destination of Buddhism, Hinduism, and Jainism. Some major tourist destinations in Rajgir are the Swarna Gufa, Griddhakuta Parvat, hot springs, and the Vishwa Shanti Stupa.
Barabar Caves
The caves located 57 Kms from Gaya are some earliest carved out Buddhist caves. The interior of these caves is chiseled to a wonderful polish. Excellency of the carvings can be imagined by looking at these cave carves. The third century carved these caves are example of skills of the Indian mason.
Deo
The temple dedicated to Sun God is called Deo here in Gaya. The temple is located at the distance of 20 kilometers from Gaya. On the occasion of Chhath thousands of devotees gather here for a glimpse of the deity.
Dungeswari
The place is famous for the caves where Buddha had meditated for some time. It was in these caves that he concluded that the ultimate knowledge can not be attained through mortification of the flesh. These caves are 12 kms from the main town of Bodh Gaya.
Gaya
Located 112 km away from Patna Gaya is a Hindu pilgrimage center. The place houses the Vishnupad (Vishnu footprints) Temple, built by Rani Ahilya Bai of Indore in the 18th century.
Nalanda
Locate 90 km away from Patna Nalanda is an important heritage site. The ruins of Nalanda University are major attractions which are evidence of the greatest centers of Buddhist learning in ancient times. Hiuen Tsang Memorial Hall, the Surya Mandir, the Nalanda museum, and the Nav Nalanda Vihar are other major tourist attractions of Nalanda.