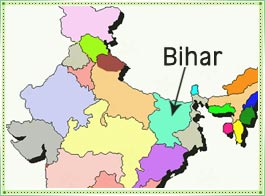 The Bihar plain is divided into two unequal halves by the river Ganges which flows through the middle from west to east. The state of Bihar has 94,163 sq. km area. Bihar is located in the eastern part of the country and lies mid-way between the West Bengal in the east and the Uttar Pradesh in the west. Its boundary touches Nepal in north and Jharkhand state in south. Its geographical location is 21°-58'-10" N ~ 27°-31'-15" N latitude and between 82°-19'-50" E ~ 88°-17'-40" E longitude. Its average elevation above sea level is 173 Feet.
In south lies the Chota Nagpur plateau, which was once a part of Bihar. Bihar has highly fertile land which has been generated by the rivers flowing in the region since ages. Rivers Ganga, Son, Bagmati, Kosi, Budhi Gandak, and Falgu are the major rivers in the state. Central parts of Bihar have some small hills, for example the Rajgir hills.
A visit to Bihar is a memorable experience amidst stunning historical and architectural riches, exotic scenic vistas, dense forests, rolling hills glistening rivers and vibrant waterfalls. The tourists can have a glimpse of the various legacies of the culture, history and civilization of India.