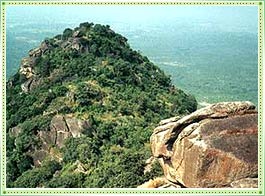 Gurpa is located forty kilometers from Bodh Gaya. Gurpa is a small village, albeit important for Buddhists. According to Buddhist literature Maha Kassap, the disciple of Lord Buddha realized that his death was nearing and he started moving toward the hill where he wanted to take his last breath. The 'Kukkutapadagiri' hill was not easily accessible and Maha Kassap faced many hurdles during travel.
According to legend, he would face obstacles like rocks that would hinder his further continuation of the journey. He, however, struck all these rocks with the help of his staff which opened up and paved way for his journey. When he reached atop the hill a cavity was formed in the rocks. Maha kassap entered in the cavity and indulged himself into a deep meditation. The rocks closed around him. A popular belief says that he is still inside the cave capped by stones.
As above-mentioned legend goes further, it is believed that when the Future Buddha will appear in this world, he will first visit Kukkutapadagiri, would wake up Maha Kassapa and get the Buddha's robe from him and then commence to declare his new dispensation. The spot where Maha Kassap meditated is considered sacred among Buddhists and the hill is named Gurpa. The hill is located in the village of the same name in Bihar.
Lord Buddha himself had described Maha Kassap equal to himself in many instances, and for this reason, Buddhists consider him second only to Lord Buddha.