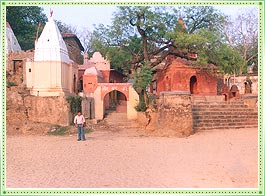 East Champaran, an administrative district of Bihar, is blessed with lush green surroundings and myriad tourist attractions. The district is significant in terms of mythology as well as history, making it a delight for those interested in the past. Efficient means of transport and good connectivity with other parts of the state has made East Champaran one of the frequented tourist spots of Bihar. Let us learn about the places to see in East Champaran.
Motihari
Motihari is the district headquarters of East Champaran. Its historical importance makes it a must-visit place. Motihari has been regarded as the springboard for Indianís independence. In April 1917, Mahatma Gandhi visited the place and his sincere efforts sent a wave of enthusiasm and inspired the people to participate in the freedom struggle. A number of trains connect Motihari to other parts of the state.
Kesaria
Kesaria is situated in the East Champaran district, on the eastern banks of the Gandak (or Narayani) River. The place houses the tallest Buddhist stupa ever excavated. The 104 feet tall stupa immediately attracts touristsí attention. Kesaria has already attained a prominent position in the history of Buddhism. According to some records, Lord Buddha stayed in Kesaria for a night, when he was on his way from Vaishali to Kushinagar.
Huseni
Huseni is a lake situated 53 km away from Motihari and 8 km from Kesariya Bazar. An ideal picnic spot, Huseni attracts a large number of birds.
Areraj
Located 30 km to the southwest of Motihari, the village of Areraj has religious importance. It is abode of an ancient temple dedicated to Lord Shiva. A large number of people visit this temple in the month of Sawan (July-August). You may also go to explore the ancient Ashokan stone pillars in Lauriya village, which is located 2 km to the west of Areraj. The pillar was erected in 249 BC, is 11.5 meters high and has been carved out of single block of polished sandstone.
Sitakund
Sitakund is a village located 16 km to the southeast of Motihari. The village serves as the site of the remains of an ancient fort. The monument is an irregularly shaped structure, 450 ft long on each side, with large round bastions at the corners and in the middle of each face. A holy tank is located inside the fort. According to a legend, Sita, (the wife of Lord Rama) bathed here.
Sitakund serves as the venue of a mela that is held on the occasion of Ramnavami, on an annual basis. Thousands of pilgrims throng this mela and pay their respects to Lord Ram and Sita Mata. There are a large number of temples in the vicinity of the fort, of which the main one enshrines the images of Sun God, Lord Hanuman and Lord Vishnu. There is also an image of Ravana, two images of Ganesh and a carving of Mahishamardini or Durga, killing a buffalo demon.