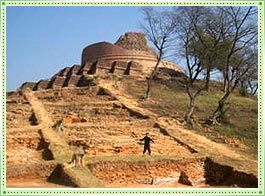 Situated in the East Champaran district of Bihar, Kesariya region serves as the place of the largest Buddhist stupa in the world. Kesariya stupa, as it is known, is located at a distance of about 110 km from Patna, the capital of Bihar. Kesariya region has a rich heritage of the Buddhist architecture of the ancient times, with Kesaria stupa being the highlight. Discovered in 1998, the stupa is believed to date back to somewhere between 200 AD and 750 AD.
Kesaria stupa has a circumference of almost 1400 ft and raises to a height of about 104 feet. It is believed that initially, the height of the stupa was approximately 150 feet. However, after being subjected to the 1934 earthquake that shook India, the stupa got immersed into the ground and was reduced to 123 feet in height. The aftermath of the earthquake further reduced the height of the statue to its current stature, that of 104 ft.
Interestingly, Kesariya stupa is believed to have been built to honor the place where Lord Buddha had spent the last days of his journey, before attaining Nirvana. It is said that Lord Buddha handed over his begging bowl to the Lichhivis, people of Vaishali and requested them to go back to Vaishali, after his death. To venerate the end life of Lord Buddha, the Lichhivis are said to have built this stupa. While formerly, it was only a mud stupa, it gained its present structure in the Maurya, Sunga and Kushana period.
Kesariy stupa serves as a holy site for the Buddhist pilgrims around the world. Standing tall, it acts as a reminder of the last days of Lord Buddha and his compassionate and gentle approach towards people. In the 1998 excavation, the place around the stupa was found to house significant items, like Islamic coins, arrow heads, copper and terracotta items, earthen lamps, decorated bricks, etc. A number of images of Lord Buddha, in 'Bhoomi Sparsh Mudra' and other sitting postures, were also found in Kesaria.