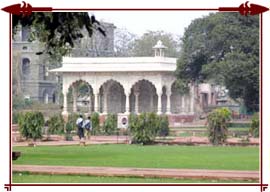 Shahajahanabad Gardens at Delhi date back to the time when Emperor Shah Jahan ruled over the city. One of the favorite summer jaunts of the Emperor, the Shahajahanabad Gardens also served as the venue for the celebration of various festivals by the ladies of the court. Come spring season and they would assemble in the Gardens of Shahjahanabad to celebrate Raksha Bandhan, Basant Panchami, Teej, etc. The major gardens comprising of the Shahajahanabad Gardens at Delhi are:
Begum Ka Bagh
Begum ka Bagh was set up by Jahanara, the daughter of Shah Jahan, in 1650. Situated in the center of the walled city, this garden boasts of water pools, aqueducts, fountains, flowering bushes, fruit tress, etc. Throughout the garden, chattries (covered canopies) were built in order to provide for shades. Later, a section of the garden was gifted to the mother of Shah Jahan, Begum Samro. She built a palace there, which is now known as Bhaghirath Palace.
Roshanara Gardens
Shah Jahan's younger daughter, Roshanara, got this garden set up. Named after its founder, Roshanara garden also served as her last resting place and still houses her tomb. Plants with blossoming flower cover the garden, with a raised canal passing through their center. In the middle of the garden is the Roshanara Club that was built by the British.
Tees Hazari Garden
The Tees Hazari Garden, located outside Kashmiri Gate, was built in conventional manner with neem trees all round. First gifted to Jahanara by Shah Jahan, it later became a part of the "zagir" of Aurangzeb's Zeb-un-nisa. Today it houses the Session Court of Delhi.
Qudsia Garden
One of the biggest gardens outside Kashmiri Gate, Qudsia garden was once a blossoming garden with flower plants and trees. Laid by and Qudsai Begum, wife of Mohammad Shah, the garden has a portion reserves for roses and another for fruit trees. Cascades, waterfalls, canals, a baradari and three massive gates characterized this garden.