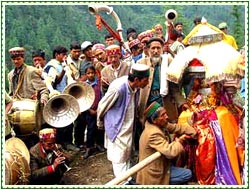 The people of Himachal Pradesh love to feast, dance and celebrate everyday of their lives. The numerous fairs and festivals of the state and their elaborate rituals and traditions provide them the perfect opportunities to do so. The customs, costumes, music and dances of these festivals tell us much about the religious fervor, spirituality and gaiety of its natives. Some of the major festivals of Himachal Pradesh include Lohri or Maghi Festival, Losar Festival, Halda Festival, Basant Panchami, Dusshera, etc.
Halda Festival
Halda Festival is celebrated in the Lahaul district of Himachal Pradesh to usher in the New Year. The festival falls in the month of January and stretches on for a period of two days. It is dedicated to 'Shashikar Apa', the Goddess of Wealth in the Lamaistic Pantheon.
International Himalayan Festival
International Himalayan Festival is celebrated in the Kangra District of Himachal, in the month of December. The festival is organized as a commemoration of the event when the Nobel Peace prize was awarded to His Holiness The Dalai Lama in 1985.
Losar Festival
Losar is the New Year festival of Tibetans, celebrated mainly in the Lahaul district of Himachal Pradesh. It marks the beginning of the winter season in the valley and is celebrated during the first month of Tibetan calendar, which usually falls somewhere around mid-November to first week of December.
Phulaich Festival
Phulaich Festival is celebrated in the month of September in the Kinnaur district of Himachal Pradesh. It is also known as Ookayand Festival and Ukyam Festival. The term 'Oo' means 'flowers' while 'Kayang' means 'festival'. Thus, Phulaich is a 'festival of flowers'.
Summer Festival
People from the plains of Northern India rush to Himachal Pradesh in summers, to escape the heat of the harsh sun. It is during this time that a variety of programs, cultural and folk performances and tourism fairs are organized by the Government of Himachal Pradesh.