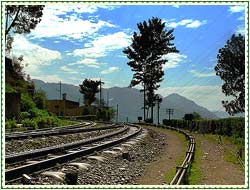 From a mere stopover to Himachal Pradesh to a popular travel destination of India, Barog is finally getting the recognition it deserves. Experience the beauty of untouched natural surroundings when you travel to Barog. These breathtaking views have a dream-like quality to them and make an idyllic setting for the tourists pouring in to enjoy the miraculous beauty of Nature. Tourism in Barog is catching up because it provides what big metropolitan cities can't offer - peace and tranquility.
Early mornings are very beautiful in Barog with the dew on pine trees glistening in light sunshine. Soft rays of the sun paint the snow-capped peaks a bright orange and the morning mist makes the surroundings absolutely divine. Barog provides scenic views of the Solan valley and is the only hill station in India with a registered camping site with basic facilities, where one can either put up one's own tent or rent one for nominal charges. The long winding roads and exotic scenery are ideal to go on an excellent drive.
Barog Tourist Attractions
Barog is a sleepy little town of Himachal Pradesh. It is located in the Solan district of this state and makes a delightful place to go on a tour, while in Himachal Pradesh. This place, surrounded by lush green locales gets its name from an engineer named Barog.
Suketi Fossil Park
Suketi Fossil Park was the first park in Asia that to be situated on the site where the actual fossils were unearthed. Situated at a distance of 21 km from Nahan, this park is sited on the bank of Markanda River. It lies on the upper and middle Shiwaliks and has soft sandstone and clay rocks. Suketi Fossil Park is known for its six life size fiberglass models of pre-historic animals, whose fossils and skeletons were found at Suketi. These models depict Crocodilia; giant land tortoise and chelonia (Colosschelys Atlas).
How to Reach Barog
Barog is a small hill station in Himachal Pradesh, which has been gaining increased recognition from tourists. It started being noticed by people in the early 20th century, when it comprised of one of the stoppages on the route of the Kalka-Shimla toy train. Since then, its popularity has increased manifolds.