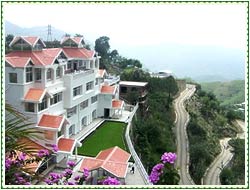 Located at an altitude of 4667 feet above sea level, Kandaghat is the perfect place in Himachal Pradesh for you if are looking for a quiet and peaceful vacation. Maharaja Bhupinder Singh built his palace in Kandaghat after which this place received the attention it deserves. Raja Bhupinder Singh was the ruler of Patiala and when he was expelled from Shimla, he set up base in Kandaghat. Today, this is one of the most popular destinations to travel in India.
Kandaghat was the seat of the local Deputy Commissioner during the British Rule. Kandaghat was also the summer capital of the Princely State of Patiala. Kandaghat is undergoing a green revolution under Himachal Government agricultural project. The agro-climactic condition of Kandaghat is congenial for the production of off-season vegetables and seeds for temperate vegetables. This place offers fantastic tourist attractions as well as amazing cuisine that you can enjoy in the blissful weather.
Kandaghat Tourist Attractions
Chail View Palace
Maharaja Bhupinder Singh of Patiala vowed to build his own Summer Capital at Chail, which was planned to be superior to Shimla, the Summer Capital of British. Before starting his construction he built a palace at Kandaghat offering view of Chail, giving it a prominent position in the history and called it Chail View Palace. Even today, one can visit the rooms in the Palace that were used exclusively by the Maharaja that have been well preserved in their pristine glory.
Shiva Temple
The ancient temple of Lord Shiva is revered for its religious and archeological significance. According to the folklore, it was constructed around 400 years ago. However, it was restructured and repaired by Maharaja Bhupinder Singh during his reign.
Karol Ranges
Karol Ranges are at the highest point in the Kandaghat region. It is known for an old Krishna Temple that is housed in a cave. It is said that Pandavas had dug up this cave and built this temple here. Though, no one knows the depth of the cave, some people believe that it opens up somewhere near the historical Mughal Gardens at Pinjore.
Baba Thada Mulla
Baba Thada Mulla is located at a distance of half a kilometer downhill from Kandaghat. Women are not allowed to worship here. There is a beautiful waterfall, which is about 250 feet high. Devotees believe that wishes are granted here within a week and one is obliged to offer sacrifice of a black goat after it gets fulfilled as a token of thanks to the deity.