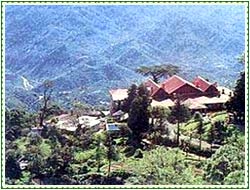 The scenic beauty and serenity of Kasauli along with its warm and friendly people make it a charming hill station. Kasauli retains an old-world-charm reminding one of the by-gone British era. This quiet little place with its gabled houses, cobbled pathways, quaint shops and manicured gardens provides magnificent views in a very subtle way to its visitors.
Narrow winding roads of Kasauli offers gorgeous views of plains of Punjab, Haryana and Chandigarh at night and the silver lining of River Satluj flowing through them. One can see Choor Chandni peak from here, the 'Mountain of the Silver Bangles' where snow shines in the moonlight as a bangle moving down the hill. The Upper and Lower Malls run through Kasauli's length. It is 20 km from Barog and 60 km from Chandigarh.
Kasauli Tourist Attractions
Kasauli is a lovely place located in Himachal Pradesh. A favorite destination for vacation in India, this place is worth going on sightseeing tours. There are many tourist attractions in Kasauli that are worth the visit. Kasauli is easily reachable from anywhere in Himachal Pradesh.
How to Reach Kasauli
Kasauli, a hill station located in Himachal Pradesh, attracts tourists for its thick cover of pine, oak, rhododendron and chestnut trees. The place is located in sub-Himalayan range of mountains and offers excellent opportunity for adventurous tourists to go for trekking.
Places to See near Kasauli
Located at an altitude of 1927 meters, in sub-Himalayan range of mountains, Kasauli is a major hill station of Himachal Pradesh. Sited 77 kilometers from Shimla and 70 kilometers from Chandigarh, the place is full of adventure and fun, along with the peace and quiet of nature.
Kasauli Weather
Kasauli, located amidst forests of chir-pine, Himalayan oak and huge chestnuts, is a major tourist destination in Himachal Pradesh. The place was initially a very small town, which British later developed for their purposes. Kasauli is 36 kilometers away from Kalka and falls on Kalka-Shimla road.
Things to Do in Kasauli
A small, but scenic town in Himachal Pradesh, Kasauli woos the visitors with its 'old world' charm. A small cantonment town in Solan district, it was established as a hill station by the British, in 1842. Though decades have passed since India's independence, the influence of the British era can be seen on Kasauli even today.