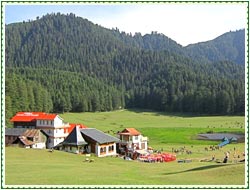 The grassy meadow of Khajjiar is situated at a distance of approximately 22 km from Dalhousie and 23 from Chamba. 1.5 km long and 1.0 km broad, this tiny town is shaped like a saucer and has seven emerald-turf meadows surrounded by dense pine and deodar and high mountains. It even has a small lake that is fed by streams flowing through the spongy green carpet of Khajjiar. Often known as 'Gulmarg of Himachal Pradesh', it has been aptly described by Hutchinson as - "Khajjiar is a forest glade of great beauty, 6,400 feet above sea level".
In 1992, Mr. Willy T. Blazer, Vice Counselor and Head of Chancery of Switzerland in India, named Khajjiar 'Mini Switzerland of India' and put a signboard of a yellow Swiss hiking footpath that displays the distance of Khajjiar from the Swiss capital 'Berne' as 6,194 km. With this, Khajjiar became one of the 160 locations in the world that resemble the topography of Switzerland and one of its stones became the part of the stone collage around the Swiss Parliament, which represents Khajjiar as the 'Mini Switzerland of India'.
Khajjiar was a part of the erstwhile state of the Rajput rulers of Chamba. In the 6th century, it served as the capital of the Chamba rulers. Thereafter, it was taken over by the Mughals, from which the rule passed over to various Sikh kingdoms. Finally, British control was established over Khajiar and with the independence, the hill station became a part of the state of Himachal Pradesh. The picturesque beauty of the place, along with its nine-hole golf course, has given a boost of its travel and tourism industry.
Khajjiar Tourist Attractions
Khajjiar is one of the most beautiful hill resorts in Himachal Pradesh. Situated in-between Dalhousie and Chamba valley, this amazing meadow serves as a perfect getaway destination, especially for those who are looking for a respite form the bustling city life.
How to Reach Khajjar
The quiet and tranquil place of Khajjar is located in Himachal Pradesh, near Chamba and Dalhousie. The place serves as the perfect travel destination for those travelers who want some respite from maddening crowd of cities.
Khajjar Lake
Located at an altitude of 1900 meters, in Chamba district, the lake is perfect for indulging in sight seeing. It is situated in the center of large Khajjar glade, arpund 16 km from Dalhousie and 25 km from Chamba.
Khajjar Weather
Weather in Khajjar, just like the rest of India, can be is divided into three seasons - winters, summers and monsoons. Tourists flock to the place mainly in the months of February to April, when weather the conditions are the most pleasant.