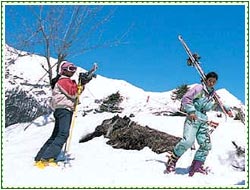 There are ample opportunities for trying your hand at adventure sports in Himachal Pradesh. The range of adventure sports available in Himachal Pradesh include camping, trekking, rock climbing, mountaineering, river-rafting, paragliding, hang gliding, fishing, angling and many more. If you are bored of your routine life and want some excitement and fun, come and experience the thrill of trying out an adventure sport in Himachal Pradesh. As you soar high like a bird while paragliding or feel the adrenalin rush while you toss against untamed waves while river rafting, you will live life in a way that you are going to cherish forever. Our related sections shall give you information regarding major adventure sports of Himachal Pradesh.
Camping
The camping sites that Himachal Pradesh has to offer to camping enthusiasts will enthrall all nature lovers. The scenic beauty of Himachal Pradesh makes camping here, a memorable experience.
Hang Gliding
Himachal Pradesh has something to offer each tourist. Nature lovers can explore the scenic landscapes that have been untouched by time; families can have a gala time exploring tourist attractions while the ancient ruins intrigue the philosophers.
Mountaineering
Himachal Pradesh offers a wide range of mountain slopes to tourists for climbing. There are gentle and easy slopes, along with some of the most challenging and treacherous peaks with breath taking views.
Paragliding
Paragliding is one of the most popular sports for adventure enthusiasts in Himachal Pradesh. This sport is much dependent on the season since thermal currents play an important role in it.
River Rafting
River rafting is increasingly becoming a very popular sport in the untamed rivers of Himachal Pradesh. Shooting through the rough river rapids, past tall pine forests, blooming rhododendrons and shiny snow-capped peaks in an inflatable rubber dinghy is quite an adventure.
Rock Climbing
Rock climbing is an adventure sport that requires strength and endurance. It always helps if you are trained in climbing rocks or have at least tried this sport once. In Himachal Pradesh, the rocks in natural surroundings are rugged and steep.