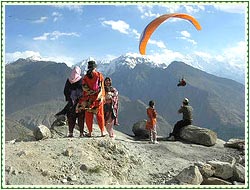 Paragliding is one of the most popular sports for adventure enthusiasts in India. This sport is much dependent on the season since thermal currents play an important role in it. Paragliding can be called a mix of skydiving and hang gliding. The ideal time for para gliding in Himachal Pradesh is from February to June and September to November. Sure to set your adrenalin rushing, paragliding is no less than adventure. How often do you get to soar like a bird in the endless sky and feel like you really do have a grip on your life!
The low-lying valleys of Himachal Pradesh heat up in summers due to which hot air rises up and forms thermal current in vertical columns. The thermal currents are helpful in aiding the glider while taking off. The most common method to become airborne is known as 'Hill Launch'. In this, the pilot jumps off from the edge of a hill, thus inflating the canopy of the glider and glide in the sky with the help of a thermal current. Once the pilot reaches the desired height, the inflated canopy resists the thermal current so that the pilot can glide down slowly until he/she finds another thermal current to rise again.
Himachal Pradesh has many popular sites where one can try paragliding. The breath taking sceneries in the hills and valleys are sure to make your experience a memorable one. Visit these below mentioned sites to experience the sheer thrill of para gliding in Himachal Pradesh.