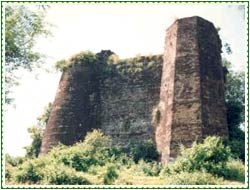 Bilaspur is a district located in the state of Himachal Pradesh. Touted as the first planned hill town of India, the new township of Bilaspur is situated at a height of around 670 meters above sea level near the Govind Sagar Reservoir. This beautiful town is surrounded by lush hills and scenic beauty. The magic of your travel to Bilaspur will be increased if you visit this place during early summers or September - December. This is the time when Bilaspur experiences perfect climate that is neither too hot, humid, nor too cold.
The hospitable climate and plethora of tourist attractions has definitely contributed in boosting tourism in Bilaspur. One can visit this place just after winters, i.e. during March - April. During this time, the annual cattle fair is held at Bilaspur which attracts many tourists as well locals. An elaborate fair that highlights grand feasting and amusing acts is organized for this occasion. Visit Bilaspur in Himachal Pradesh to experience that dream vacation you had always wanted.
Bilaspur Tourist Attractions
Located in the Sutlej valley of Himachal Pradesh, Bilaspur is a small district that boasts of scenic natural surroundings. Bilaspur covers an area of 1167 square kilometers.
Baba Nahar Singh Temple
Baba Nahar Singh Temple is situated at Dholra, which falls under the Bilaspur district. Baba Nahar Singh is believed to be an incarnation of God and is also known by the names of Bajia, Peepal Wala amd Dalian Wala.
Badol Devi Temple
Badol Devi Temple is situated in Badol village of Bilaspur. There is a very interesting legend attached to this temple. It is said that one day, an old villager named Bhura noticed that his cow had shed her milk on a particular place.
Deoli Fish Farm
Deoli Fish Farm, which comes under the Bilaspur district of Himachal Pradesh, came into existence in the year 1962. It is spread over an area of 4.4 hectares and has 14 nursery ponds and 2 big brood stock tanks.
Mandir Jalapa Mai
Mandir Jalapa Mai is situated in Sangirathi Village, on the on Bilaspur-Shimla Road. It is situated at a distance of approximately 14 km from the Bilaspur district of Himachal Pradesh.
Markandeya Ji
Markandeya Ji Temple is situated in a beautiful place known as Markanday, situated 20 km from Bilaspur. Named after the famous sage Rishi Markanday, this temple holds much significance, especially amongst childless couples.
Naina Devi Temple
Naina Devi temple, one of the most important Shakti Peeths of India, is situated in Bilaspur district of Himachal Pradesh. Raja Bir Chand got this temple constructed in the 8th century.
Naras Devi Temple
Naras Devi temple is situated on a hilltop at Baroha, 2 km from Naras village that falls under the Bilaspur district of Himachal Pradesh. The temple is more than 400 years old and is believed to have been constructed by King Kalyan Chand, while establishing Sunhani as the capital of his kingdom.
Sheetla Mandir
Sheetla Mata Temple is situated in a village named Jangla, at a distance of approximately 1.5 km from Gehrwin city of Himachal Pradesh. Like the Golden Temple of Amritsar, this temple is also built in the middle of a tank.
Bhakra Nangal Dam
With its vast water reservoir and attractive location, Bhakra Nangal Dam attracts a large number of tourists. Water flowing from great height and at great speed leaves a spectator amazed.
Gobind Sagar Lake
The vast reservoir that forms the lifeline of Himachal Pradesh, Gobind Sagar Lake is a popular tourist destination too. It is an artificial lake, which is a direct outcome of world famous Bhakra Dam on the Sutlej River.
How to Reach Bilaspur
Bilaspur is a district in Himachal Pradesh, situated on the south eastern side of the Satluj River. The town by the name is perched at an altitude of around 670 m, just above the old township that got submerged under the Gobind Sagar Reservoir.
Places to See Near Bilaspur
Bilaspur is a city situated in Himachal Pradesh, which falls under the district of the same name. The place has everything, right from heritage, religious and adventure places to quiet and calm valleys.
Bilaspur Weather
Bilaspur, the place of streams, verdant valleys and rivulets, is a popular tourist destination in Himachal Pradesh. At the city, the echoes of the past mingle with the tomorrow.