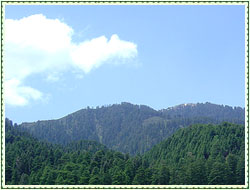 Weather in Khajjar, just like the rest of India, can be is divided into three seasons - winters, summers and monsoons. Tourists flock to the place mainly in the months of February to April, when weather the conditions are the most pleasant. During winters, snowfall is common in the city, so you will easily find tourist from the plains, coming here to witness snowfall. In the following lines, we will provide more information in the weather and climate of Khajjar.
Summer
Summer season in Khajjar lasts from the month of March to June. During these months, weather in the city is quite pleasant. Temperature ranges from around 10°C at night (minimum) to 39°C during the day (maximum). Cotton clothes and light woolen clothes are recommended during this season. Make sure to carry your sunscreen too.
Winter
The winter season in Khajjar begins from October and lasts till the month of February. The weather during this time is very severe in many senses in Khajjar. At times, the temperature may fall below the freezing point, resulting in heavy snowfall. Travelers are suggested to travel this place, equipped with heavy woolens during wintesr.
Monsoon
Monsoon season in Khajjar starts in July and lasts until September month. The place gets annual rainfall of about 160 cm. Weather during these days is pleasant. Lush green mountains and water streams make Khajjar an even more beautiful place to see. The whole valley becomes full of versatile colors of flowers and enchants travelers.